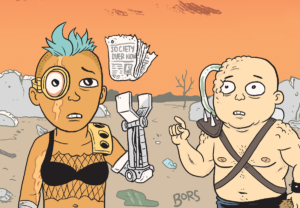 There's an awful lot of mentions through the long history of Fleen of Matt Bors — of his editorial cartoons, and of his stewardship of The Nib. Looks like the future will have a good deal less of one, a bit more of the other, and presumably a near-infinite percentage increase in entirely new stuff, as Bors looks for his next pursuits:
After 18 years and more than 1,600 political cartoons, I've decided to retire my weekly comic. This is a decision long in the making, one I've slowly walked myself up to over the years, and have recently decided is time to commit to. My last cartoon was two weeks ago.

I want to do more nonfiction cartooning at The Nib — the interviews and journalism I have only been able to do in between the cracks of my deadlines — and I'm actively preparing pitches as a writer on some fiction comics. It's time for me to work in longer formats and dip into all the kinds of comics I love and want to create.
As good as Bors's editorial cartoons are — and I remain of the same mind that I was on my 45th birthday, wherein I find Bors's POV to be exactly on point, bringing up a new perspective I hadn't considered, and completely off base in about equal measure — it's in his founding and continued nurturing of The Nib that will be his enduring legacy. There will be at least another two generations of editorial and nonfiction cartooning standouts because of the platform that they've had at The Nib, one that let them hone their skills and also get paid in American Cash Money. If nothing else, retiring his own weekly contributions opens up slots for other creators to sell and show their work.
And that's before you consider the folks on The Nib's editorial staff, who've come into their own and will no doubt run other outlets in the future, spreading their skills as well.
And I can't help but see this move as related to an email I got about a month ago, sent to The Nib's subscribers, outlining Bors's desire to grow the site and looking for upgraded subscription levels. A more self-sustaining site will give him the time to look at those other creative avenues; if the best daily anthology of comics work wasn't enough to get you to break out a couple bucks a month, consider what Bors might do with the time to refine a pitch. The headline today isn't hyperbole — I very much want to see a book-length story with Gorm and Tinsel; I love those goobers.
Not content to provide the infrastructure with his own site, Bors has still more irons in the fire:
I'll also be serving as an Advisor for Tinyview, a promising new comics app, where I'll be bringing in an array of comics across many genres. (You can download it here.)
It's a measure of the confidence I have in Bors that I'm including that download link for something I haven't vetted myself. I trust that they will not disappoint. In the meantime, drop over to the announcement on the Twitters and let him know what his work's meant to you — I'll bet it's a considerable amount.
---
Spam of the day:
Don't wait, these ED KILLERS are selling like hotcakes!
Okay, I get that you're trying to sell me a bogus ED (erectile dysfunction) cure, aka boner pills. But when you put it in all caps like that, it looks like you're offering a product and/or service to kills dudes named Ed, or maybe a product and/or service where dudes named Ed are killers. Either way, confusing.