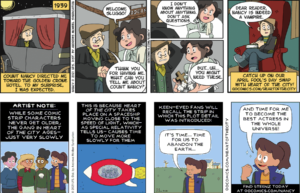 I think we can all agree that Now is not the time for April Foolin'. We're just tired. But I'll make an exception for Olivia Jaimes and Steenz, who did a swap-up of their comics today. This is the only April Foolery that is permitted today, thank you.
(This does not discount Oh Joy, Cat Toy, which ran two days ago, being the closest Erika & Matt could get to the day. I didn't think they'd ever top their review of the pan-sexual roto-plooker, but they did.)
Emergency update to add: Just as Fleen was going to press, we received an email from C Spike Trotman re: the new Iron Circus Kickstart. Backers may have received a number of emails this week, as Spike has decided to rebrand what had been her personal Kickstarter account into one for the publisher, a change that Kickstarter would only permit if every past backer of every past campaign were notified of the name change (example here).
Today, then, marks the first crowdfunding (Smut Peddler, y'all!) of the new Iron Circus Comics-branded account; new name, same dedication to comics, unbroken record of funding, and profit sharing with creators. Check out Smut Peddler: Pitch Black and be sure to watch the video. It's a good 'un.
---
Spam of the day:
[angry red face emoji x 3] STOP SENDING ME YOUR NUDES! [angry red face emoji x 4] Hi, plz stop messaging me in whatsapp ! why you sending me your photos
Even the spammers are getting in on April Fools Day. It's the first time I've ever seen one argue for fewer nudes to be sent on the internet. Also, I've never been so insulted as I am by the insinuation that I would have a [Facebook-owned and -integrated] WhatsApp account.