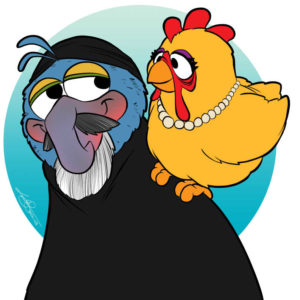 Actually, a couple of things that look good. Let's dive in.
Oooo, This Looks Good, Guest Comics Division: Beth Reidmiller has been the colorist/logistics whip-cracker/booth wrangler/book designer/etc for Los Angeles resident Dave Kellett's Sheldon for about forever now¹, and while her coloring is terrific, we haven't seen her line art … until now. Reidmiller is the latest contributor to LArDK's other strip, Drive, where the best comics folks are invited to write & draw stories set in the Drive universe. Reidmiller's contribution started today, will run on Tuesdays for the next 15 weeks², and explore the backstory of a central character — Captain Taneel³.
The good captain has been in need of some character exploration for some time now, and Reidmiller has chosen to start at a pivotal moment where some of that history was tantalizingly hinted at: a fight with her ex-husband, who just happens to be highly placed in the ranks of the murderous extra-secret secret police (they're fun at parties).
Seeing Reidmiller's framing of that scene vs the original is super interesting, particularly in how she accomplished the near-impossible — turning Cuddow (a member of a milquetoast species best known for their obsequiousness and poetry slams) into a dynamic badass in panel four. If you don't read Drive, it's worth diving into the archives, and come back for the next four months on Tuesdays to see what's up with the captain, her brother, her ex, and all of it.
Oooo, This Looks Good, Literary Awards Division: Fleen fave Ursula Vernon (obligatory reminder: I loves me some Digger) got news yesterday that she's been nominated for the Andre Norton Award at the Nebulas; the Norton award is for middle grade/YA fiction, which is where an awful lot of tremendously creative genre fiction has been happening for some time now. Vernon's nomination is for the novella A Wizard's Guide To Defensive Baking and released under her T Kingfisher nom de plume. The description is a hoot and very, very Vernonesque:
Fourteen-year-old Mona isn't like the wizards charged with defending the city. She can't control lightning or speak to water. Her familiar is a sourdough starter and her magic only works on bread. She has a comfortable life in her aunt's bakery making gingerbread men dance.
Having failed to keep a sourdough starter alive for more than 4 months at a go, let me reassure you that Mona is in possession of some mighty skills. Good luck to Vernon, who will hopefully add another Nebula to the award's shelf. And congrats to Vernon's husband, Kevin Sonney (technological badass and actual wildlife-whispering Disney Princess), who yesterday received the greatest gift of all: a Lar deSouza original commemorating Sonney's status as chickenkeeper non-pareil.
Oooo, This Looks Good, Punching Nazis Division: My copy of Matt Lubchansky's The Antifa Super-Soldier Cookbook arrived today. Can't wait to tear into it.
---
Spam of the day:
Ho'oponopono Certification Special Offer…
As near as I can tell, this is a coupla white dudes deciding they've discovered traditional indigenous Hawaiian secrets to something or other and ugh. Gross.
_______________
¹ The earliest credit I find for her is April of 2015, but she could show up earlier. I'm not back-scrolling the entire archive on account of things to do.
² Which I'm pretty sure makes it the longest of the Tales From The Drive stories.
³ Damn you, LArDK. Damn you.