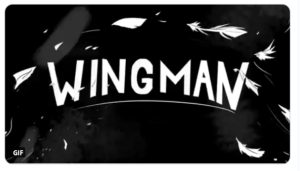 No unfying thought or theme, just stuff I saw lately.
Ngozi Ukazu did us all a favor and posted an old short comic story to The Twitters. Titled Wingman, it could have been inspired by the fact that firefighter gear lockers resemble hockey locker room stalls, or maybe just wondering what an alternate universe Ransom and Holster would be like. Either way, it's a delight.
Just about a month back, I noted that Randall Munroe had come up with an awesome explainer of how mRNA vaccines work, on account of he's a great science communicator. However, I just saw a shared TikTok video that gives Munroe a run for his money with a sixty second documentary on the magic of mRNA vaccines … lagies and jenglefenz, please enjoy the majesty of Fork Hands.
Hey, I just realized — that same day we talked about the xkcd mRNA vaccine explainer? We also pointed out another bit of quality comics-based sci-comm, from the JKX Comics collective; they had just launched a Kickstarter campaign for their full-color comics compendium on scientific research, Gaining STEAM.

Well, the end of the campaign is in sight, with just under two days to go as I write this, and I'm pleased to say that Gaining STEAM is sitting about 3.5x goal. A'course, our prediction under the FFF mk2 was for 6x to 9x times goal, which means we maybe have to look back at the assumptions of the FFF mk2 to see why it was so far off. The M in STEAM, after all, stands for mathematics, and clearly our model is off and needs to be iterated to discover what's lacking¹.

And I found it — some time back, we at Fleen noted the general inability of the FFF mk2 to predict final outcomes if there's fewer than ~ 200 pledges in the intial 24-30 hours (which is where the base prediction comes from). In this case, Day 1 had 115 backers, Day 2 another 39, and as of this writing, there's still only 228 total. A highly motivated but small group of backers all jumped onboard on Day 1 (it funded, after all in 5 hours), making the long tail look like it would be more substantial that it was. My mistake.

I see that the McDonald Ratio is also off, with a prediction of about $24,000, so we'll have to make note of the exceptions for future reference: low initial backer count and stealth launches (especially with reserved tiers) will be exempted from predictions.

But what the heck, it's still a 200 page comic about basic research, with hundreds of folks ponying up the dough. That's still worth celebrating, and with most of two days still to go, no telling how strong it might actually finish.
---
Spam of the day:
Jesiica Phillips wrote: It looks like you've misspelled the word "spinny" on your website. I thought you would like to know :). Silly mistakes can ruin your site's credibility.
Yeah, the word spinny appears three times in the blog's history, and no conceivable misspellings appear, unless you're upset about spiny, which was in reference to a hedgehog. Then again, you appear to have misspelled your own name, so pardon me if I don't take your concerns seriously.
_______________
¹ This is probably more an application of the E in STEAM, engineering, which is all about iteration. The M crowd would more likely come up with a model, spend three days getting it typeset just right in LaTeX, and then promptly resolve to ignore the actual outcome. It's trivial is the closest thing that mathematicians have to a liturgical prayer.