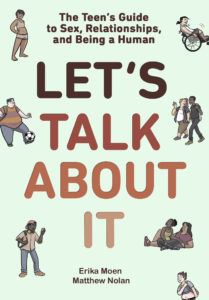 It's inescapable. There's no part of life — modern or at any point in history — that humans have spent more time and worry and brain cycles to the point of obsession on than sex. And yet we as a society — modern and I'll wager at nearly every point in history — do a crappy job of preparing people for it. They get all fizzy with hormones as teens and starting messing around without really knowing what they're doing and maybe they muddle through to a good understanding and maybe they don't.
Erika Moen and Matthew Nolan think that we should do better. Fortunately, after nearly eight years of cartooning about sex in all its forms — a cartoon that turned into an exploration of what it means to be human so gradually I didn't even notice — they've got a ton of knowledge to draw upon (and even better, a metric ton of resources to pull from) and have produced the book that they wanted at that age¹.
Let's Talk About It is that book, and it's not only useful for the teen in your life, it's a damn good primer for anybody that is looking to better navigate the world of sex, which isn't as much about sex as you might think. If you want to sum up the message of Let's Talk About It (a PDF ARC of which was provided to me by publisher Random House Graphic) with a quick glance at the index: the topic that gets the second most references is sex, whereas the most cited is relationships. Or, as Nolan and Moen observe in an afterword:
Really, sex education is relationship education, because while we're not all going to have sex, we are all going to have relationships with the people around us. When you learn about the wide world of sex, relationships, and intimacy, you learn more about yourself and others, which helps you to be a better person and to do better by others.
So the It that is going to be Talk[ed] About is nominally sex, but really not. Sex is a huge part of being human, and just as you can't be a full human without determining what sex means to you, you're also not going to be good at sex unless you've learned to be a good human.
The bulk of the book is a series of short vignettes, featuring two or three main characters, almost none of whom get names² or backgrounds, and all of whom share their feelings, experiences, wants, and information with their friends, siblings, (would-be) partners, and others.
They give each other respect, attention, and consideration, through conversations that are short and sweet or long and difficult (the most challenging being the recognition that you could be in an abusive relationship in either role; this is the first book about sex and relationship for teens that I've ever seen that addresses the idea that we have to examine ourselves for shitty behavior, and it appropriately does so by looking at a teen cis male who is at a crux — he could fall into some really toxic behaviors or choose to better himself. The book is worth the purchase price for this section alone, and should be presented to every person before they get to dating age).
Most of these interactions finish on an ellipsis, a cliffhanger, a chance for the reader to decide themselves where it goes as they consider the full lifecycle of relationships — How do I start? What do we do? What next? What if I don't like ____ about myself? What if I get rejected? — is presented, and in all of them, a key nugget of wisdom jumped out at me. Some that have stuck with me:
Consent is not lukewarm, the absence of a no, surrendering to badgering, impaired or unconscious, jumping to conclusions.
The most important relationship you'll have is with yourself. Relationships will come and go. But you? You're with yourself for life.
Chat it out before you pound it out.
The vocabulary of gender is still growing, so if you don't see something here that fits you, don't sweat it. Your identity is still real and valid.
There's no one correct way you're supposed to feel about it.
Sex is a SUPER personal thing, so there's no official "right time" or "falling behind anybody else".
Good sex and bad sex are subjective and depend on A LOT of things.
If you want to judge the success of the sex you're having, do it by how much fun you're both having. Good sex is consensual, communicative, fun, and enjoyable.
Thoughts and actions are different things.
Punishing yourself doesn't solve anything.
And, my favorite line in the book:
I found it striking how many of those quotes could apply to multiple, many, or most of the topics discussed. So much of this book — the parts about sex and the parts about things that are adjacent to sex and the parts that maybe aren't about sex at all — boils down to one perfect little thought, a universal sentiment (much like the universally-applicable New Yorker cartoon caption) that applies to nearly every situation:
There really isn't such a thing as "normal". Just try to be the best YOU that you can be.
It's a spectacular job, one that treats its subject and its target audience with the utmost respect. I'd only change one thing (and again, this was an advance copy, subject to further pre-publication edits and may not be valid complaint): there's one reference to latex gloves (in a panel without much room for words) and one to latex or nitrile gloves (where there was more space to play with).
<EMT voice>Latex is an allergen, kids. Use nitrile gloves.</EMT voice>
Apart from that maybe-not-even-there concern, I will unreservedly recommend Let's Talk About It (available wherever you can find books from next Tuesday, 9 March 2021) for anybody wanting to know more about sex and being a good human.
Which is to say, anybody you think is not going to freak at truthful, but occasionally textbook-explicit, information about mashing junk together. And maybe one or two who will, but need the info anyway.
---
Spam of the day:
The best smart water fountain for your kitty & doggy
Smart water for my dog, who eats condoms off the ground and tissues out of the trash can and would drink out of the toilet if the lid wasn't down? Yeah, don't think it's smart water that she needs.
_______________
¹ Teen!Erika and Teen!Matt make an appearance at the start to set up the conceit.
² I'm not counting the plants named Queen Beth or Sir Gumbleleaf. In one case, there's a non-trademark-violating Siri-alike, who is rather more conversational and situation-aware than the real deal. In another, a person in distress is helped by a friend-to-be and they introduce themselves. In a couple of conversations, a third party is referred to by name, but doesn't appear in the conversation. Considering there's nearly 20 dialogues in the book and not a lot of specific people, there's a lot of room for readers to project themselves into the conversations and become involved in the topic at hand.
³ This one had nothing to do with sex. It was the response to the observation You want to tell me where to find more [information about sex, relationships, all of it], right? The one time in a book about sex where somebody admits to wanting to apply pressure to convince somebody else to do something they maybe don't want to do, and it's to share more information.
I love you, Erika and Matt.