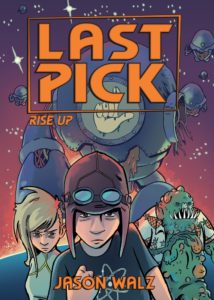 The thing about trilogies is, you know they're going to fall into one of two patterns. They may be loosely connected, but largely independent stories, and if you jump in on book two or three, you might miss some nuance, but there's also obviously other things happening to the characters between the volumes on the shelf. Or it's one continuous story, broken down into more digestible chunks, and where one leaves off the next one begins.
In the case of the latter, as in Last Pick: Rise Up by Jason Walz (:01 Books), you have to read all of it or you have an incomplete single story instead of missing out on one or more related stories. So if you haven't read Last Pick and Last Pick: Born To Run, go do that before reading any further here, and be aware that here be spoilers. In fact, to discuss this one we're going to be going pretty heavy on the spoilers; if you don't want those, skip down to the last couple of paragraphs for context on appropriate ages for readers, as this one is a bit trickier than it appears on the surface.
The other thing about trilogies of the second sort is you know how the story is going to play out. The main characters have their big challenge to overcome/world to rescue, and they're going to accomplish that goal. Thanks to Tolkien's model, we know that the protagonist(s) might not get to enjoy the saved world because of their personal trauma, but others will get to go back to normal life and even the hero gets their well-earned reward. That's just how these stories work.
We know that Sam (maybe 17 years old, employed as a conscript mutant-culler by the locust-like aliens that swept everybody from Earth to be similarly utilized) and Wyatt (her twin brother, autistic, left behind on Earth like all the other elderly, broken, and useless members of humanity) are going to find their parents (conscript mutant-cullers for the past four years, along with most of the adult population of Earth, however many of them are left alive), chase the aliens off their planet, and get back to a semblance of normal life. That's just how these stories work.
Sam might have figured out why the aliens are scooping up whole planets worth of people to do their dirty work¹, found her parents, prompted a series of prison breaks freeing oh so many captive humans and figured out how to stop the aliens once and for all². Wyatt may have been laying the groundwork for an uprising in the past six weeks, with the Last Picks from around the world building their own jerry-rigged versions of alien craft to fight back, and lured the entire alien armada to Earth for a decisive battle.
The thing about these stories? We see the hobbits go home to the Shire. We don't know the names of all the farmers in the Westfold or Ithilien or in the lands around Erebor that were slaughtered trying to hold back the might of Mordor's armies. Sam and Wyatt inspire untold numbers of people to follow them. Those jury-rigged ships? They aren't built to spec. And the humans who've had barely enough time to paint a flag or slogan on the outside haven't had time to develop real piloting or combat skills. Those prison escapees are still on hostile alien worlds, with no weapons, no food, and their captors sending overwhelming force.
They're almost all going to die.
For maybe the first time in this kind of youths must fight to save their entire planet story that's so very common, we find out just how few people there are left to try to rebuild when it's all over and how much it's going to hurt to be one of those that survive³. Sam and Wyatt don't want to send those people to their deaths, they're very nearly broken by the knowledge that that's what they did, but things are moving too quickly and honestly, there isn't a better alternative.
This was a bloody, painful end to a war that never needed to start, and in its finish it reminds me of nothing so much as Deep Space Nine's Dominion War. An entire shelf of YA dystopian uprising stories play out like General Martok, reveling in the fight and the victory; Walz reminds us that drinking in the ashes of a devastated civilization, with billions dead on each side, is never a cause for celebration.
It wasn't obvious when the Last Pick trilogy started that this was going to be a subversion; even to the end of the second installment, it looked like another rousing story of … and then those crazy kids pulled it off and saved everybody!, but Walz built towards it slowly, inevitably, almost imperceptibly until you're well past the point it should have been obvious from the beginning.
It's a hell of a lesson to those that read it, but means that you should probably look to give this one to readers at least on the older half of the recommended 12-18 year old reader range. Or, to put it another way, if you had a 12 year old read the first book, and then the subsequent two as they came out in annual installments, they're probably old enough to deal with ending. If you've got a reader that can handle the heaviness of the message, there's not a lot better out there to offer them.
Last Pick: Rise Up was written and illustrated by Jazon Walz, with interior colors by Jon Proctor and Joe Flood; cover colors by Shelli Paroline & Braden Lamb. It's been out since last October, but Diamond just now got a copy to my local comic shop. Thanks, Diamond!
---
Spam of the day:
Hi Gary, Thanks for renewing your Compulsory Third Party Insurance policy with us on 21-01-2021. We want to check in on how the process worked for you. Are there any improvements we can make on our end?
I dunno, maybe send this to the Gary Tyrrell that's your actual customer in Australia and not me?
_______________
¹ We already knew the aliens are many planets in a federation, all susceptible to mutation, and their treaties prevent any member of any planet from killing another, even a mutant. They kidnap entire populations of whole planets to kill their own mutated citizens because their laws won't let them do it themselves.
² She's learned that the mutation illness is preventable and the political leadership isn't bothering to prevent it. Once that knowledge gets out, it's going to shatter the alien civilization.
³ Exception to the rule, because there's always an exception: most installments in the many Gundam series spend a good amount of time on the burdens of war and trauma of those that survive.