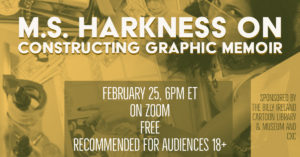 We are deep in the winter doldrums. Wait, can you get doldrums in winter? Not talking about the mood, there's an actual historical term that I think is season-specific? Lemme check …
Huh, what do you know? It's geographic, not temporal, and derived from nautical lore. I bet if I'd paid better attention to some past conversation with Lucy Bellwood, I would have known that. Anyhoo, let's pull you out of the doldrums with some upcoming [web]comics stuff and events.
Hey, do you like saving money? Sure, we all do! And do you like porn? Like I need to ask. Now you can save money while grabbing yourself some promo erotica from the fine smut merchants at Iron Circus:


Holy heck, Valentine's Day is on its way! Let's celebrate!
All erotica, in all formats (hardcover, softcover, and ebook), is now 25% off in the Iron Circus shop! C'mon and grab yourself something nice! [emphasis original]

That's until February 14, naturally. Have some fun by yourself, with your favorite other person, or maybe the group of folks that you find enticing and exciting. It's all good.

The uncertainties of COVID will still be here when you've had, uh, sufficient time with all that smut, and we're still a long ways from having in-person comics events. Not to worry, though, as the Cartoon Art Museum will be bringing you a free streaming event on 18 February (that would be Thursday of next week):


The Cartoon Art Museum and Netflix present animation legend Glen Keane (Oscar-winning director of Dear Basketball) in conversation with director Robert Kondo (The Dam Keeper, Tonko House) as they discuss Keane's storied animation career and his latest feature film, the Netflix/Pearl Studio production Over The Moon. This discussion will be followed by a brief Q&A session with our live audience.

You can catch the convo starting at 4:00pm PST, free thanks to Netflix's sponsorship, but you will have to register in advance — see the Zoom event page to do that.

And a week later, (that would be Thursday, 25 February), CXC and The Billy are bringing you another free streaming event, this one at 6:00pm EST. MS Harkness (Desperate Pleasures, Tinderella) will be talking about creating autobio comics:


This presentation will focus on how MS Harkness adapts and structures real life moments and memories, including difficult histories, into her work. This presentation may contain discussion of sensitive topics that are not appropriate for all ages.

This event is presented in conjunction with the exhibit Ladies First: A Century Of Women's Innovations in Comics and Cartoon Art, currently on display at The Ohio State University Billy Ireland Cartoon Library & Museum.

This is a free live webinar that will also be simulcast on CXC's YouTube ) and Twitch channels. You can register via the CXC Zoom site.
---
Spam of the day:
I'm inviting you to take up my free sales letter template. As a thank you for taking up my invitation I will give you a completely free no strings attached fill in the blanks professional sales letter template. Just go to [nope].com now.
I think I got your fill in the blanks sales letter template already, Jay. You sent it to me with the blanks filled in.