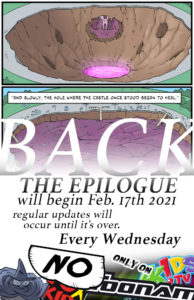 Yeah, hi, typing this around trying to get to my appointment for a COVID vaccine. Sorry it if goes up late (not sorry)
Fans of BACK have been watching KC Green and Anthony Clark's weird, oddly heartfelt drama about an undead cowgirl, an innocent druid, and the end of the world, barreling towards a conclusion, and then at the end of December a hiatus was announced — Give us a couple of weeks to get the end of the story all lined up, they said, we really want to stick the landing. Given that a weekly update is typically two or more pages full of creative mayhem, Clark and Green are entitled to as much time as they need to get it all set. But how long before BACK was back?

As of yesterday's update, we have an answer:

BACK
THE EPILOGUE
will begin Feb 17th 2021
regular updates will
occur until it's over.
Every Wednesday

Hooray!

In case you were wondering, TCAF has announced that 2021 will be virtual, but being freed of a physical time/place, they've expanded out to a full week of programming. Want in? The time to apply is until 3 March, and you can do so here, but note:


TCAF's new exhibition website is being made in partnership with Canzine (the festival of zines) and the Toronto Hand Eye Society. Zinesters and indie video game creators will be among the 600 virtual exhibitors in May!

Applicants will have the choice to apply for TCAF, Canzine OR Comics x Games. Accepted exhibitors will have a customizable online shop page where they can upload up to 5 items for sale. After TCAF, exhibitors will send all sold items to a warehouse, where orders will be bundled and shipped off to shoppers. This process is to help save exhibitors and visitors excess transaction and shipping fees. Options will be available to see additional products.

That sounds an awful lot like what I was wondering if SDCC would do for its exhibitors last year. Interesting that the free festival managed to pull it off and not the massive nonprofit corporation.

Hey, remember when it looked like the UK VAT was going to screw over absolutely everybody selling low value items into Great Britain and Northern Ireland? As a guy who has customers in the UK, Brad Guigar¹ looked into the situation and found out that Her Majesty's tax folks have set a fairly high bar for the outside-the-UK vendors to clear before they become responsible for collecting.

Unless you're selling more than £85,000 per year to UK customers, you don't have to make the arrangements (the privilege for registering to collect and remit VAT was reported to be £1000+ per year, so whew, lucky break). Your customers will have to pay VAT at a 20% rate for goods up to £135, but it's not on you to manage what they do. Full details behind the paywall at Webcomics Dot Com.
---
Spam of the day:
Yeah, nah, my arm's starting to hurt already. Time to hydrate and take it easy, tomorrow's maybe gonna be rough.
_______________
¹ He is a sexy, sexy man. Total DILF material.