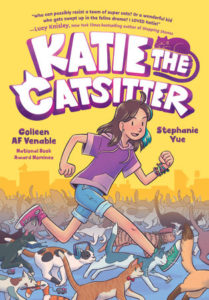 Feels good to get back to book reviews; the number that I was able to bash together over the past 11 months or so of quarantine is far fewer than I would have liked — both due to a disrupted flow of review copies¹, and everything being the way it's been — but I hope that this is the start of a renewed string of book reviews. And if it is, we've got a good title to start us out.
Colleen AF Venable (author of National Book Award nominee Kiss Number 8, among many other works) and Stephanie Yue (colorist on Smile, among many other works) have worked together previously, on the superlative Guinea PIg: Pet Shop Private Eye series (six books in all, get them all for the new reader(s) in your life and prepare yourself for a breathless recounting of the adventures of Hamisher and Sasspants), but they have joined forces for a full-length graphic novel for the first time on Katie The Catsitter, one of the newest from Random House Graphic. It's a welcome return to the Venable-Yue partnership. We'll try to keep things general, but spoilers ahead, yeah?
Katie lives in a walk-up in New York, and although the story doesn't come out and say it, she and her mom are poor folks in a richer neighborhood; her friends don't have moms that have to work all night; they live in buildings with doormen, don't get their food from the bodega, and get to go to camp. Camp! An oasis of green that city girl Katie has never experienced. One particular friend's mom offers to pay Katie's way to camp, but Katie's determined to earn the money herself, no matter how unsuited she may be to grocery-carrying (mashing eggs), plant-sitting (they all died), and other miscellaneous kid-type chores.
Until she gets asked up to the top floor of her building by the mysterious Ms Lang, who needs a cat-sitter. Cat's aren't allowed in the building, but that hasn't kept her from keeping cats.
217 of them. In an apartment, but sadly, Ms Lang informs us, New York City apartments just don't fit 218 cats well. Suspiciously well-trained in everything from using the bathroom like people to computer hacking the Pentagon to making Katie a new fingerprint-sensor key, because it's easy to teach a cat to fetch, or hit a few keys, or create a 3-D model, render and print a mold, then cast and cure a silicone fingerprint. "Easy". And if the cats create havoc, they repair everything (including sourcing replacements for any shredded furniture) before Ms Lang is home at midnight, and Katie's making 30 bucks an hour.
Weirdly, on the nights that Katie cat-sits, the Mousestress — New York's most mysterious costumed villain — is revealing mistreatment of animals or rescuing those in need in ever flashier ways. She isn't really committing crimes of the usual villain sort — the breaking and entering is in service of bringing unpleasant facts to light, not to steal stuff or hold the city hostage — but The Eastern Screech (Yes. It is I. New York's highest Yelp-rated superhero.) is determined to take the Mousestress down because … well, because he's a bit of a jerk. I'd say he's stiff-necked, but he does that rotate-the-head-all-the-way-round thing that owls do, so he's not, but you get me.
Meanwhile, Katie's best friend since forever is writing from camp less and less, having found new friends and boys and who knows what else. Katie's got nobody to talk about all this to, except for 217 cats, each with a particular skill² far beyond what you'd expect cats to have. Along the way, Katie learns that villains aren't always evil, friends aren't necessarily forever, and if you're gonna fight the law for all the right reasons, you need a crew of deeply skilled experts that have your back, no matter what.
The story's charming, the art is inviting and full of character, and it's clear that Yue and Venable have a blast working with each other. Look for Katie The Catsitter to top best-of lists and awards categories for middle grade readers for the next couple of years, as we're promised Katie The Catsitter — Best Friends For Never in 2022, and hopefully there will be more after that.
Katie The Catsitter by Colleen AF Venable and Stephanie Yue is available at bookstores everywhere; a copy was purchased prior to review. It's a perfect read for any kid that has the patience to make it through 200 pages on their own, although older readers will get more of the gags and maybe be more receptive to the message that heroes and villains aren't always who Yelp tells us they are.
---
Spam of the day:
DOMAIN SERVICES EXPIRATION NOTICE FOR fleen.com Domain Notice Expiry ON: Jan 17, 2021
Oddly, we are two and a half weeks past your deadline and we're still running. Strange.
_______________
¹ Including, among other things, Random House Graphic seemingly having to drop plans to get physical review copies out into the world, and :01 stopping all physical copies. Both are being generous with electronic review copies, but I am old and grumpy enough to massively prefer the act of reading on paper. You can't get a PDF autographed, people!
² In addition to those specifically called out in the text, there's a personnel file of pretty near to 200 different cats, each with a name and a skill. Admiral Dewey: tea expert; Chomsky: cognitive science; DJ Bootie Butler: mad beats; Hashbrown: composting expert; Knope: community action; Marley: murder podcast expert; Nick Furry: comic book expert; Puss N Cahoots: lawyer; Shamrock: green initiatives; Smushy: mixed martial arts; Willow Harkill: photonics engineer.
Not content to come up with 200 areas of expertise, Venable has dreamed up some amazing cat names: Baby Teefling; Captain von Smooch; Cat Benatar; Cathulhu; Catman Crothers; Em-Dash; Meatloaf; Meowth von Landingham the Fourth; Mr Aaron Purr Sir; Sassafras Assassin; Shrimpy Longstockings; Spooky Pumpkin Patch, and dozens more. Yue has given each of them a unique design and a personality, no two cats in the crowd scenes look the same, and the ones that are most relevant to the plot all have distinct coats, silhouettes, and ways of moving (or not, in the case of Oslo, the movie expert).