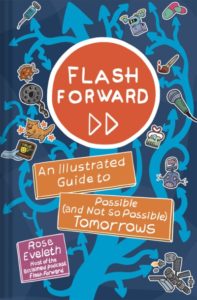 There were originally going to be more words in today's post, but I've had to clear snow twice so far — 40 cm and counting of snowfall will do that — and will likely have to do so twice more again before it's done. So you get some pointers and the assurance that I had many clever words on deck in my brain that just won't come out now.
As you may have gathered from the title, our common thread today is new work from Matt Lubchansky — cartoonist, associate editor at The Nib, and international bon vivant — who was most recently mentioned on this page in association with their new original graphic novel¹ 'bout two weeks back. As well as being a prolific cartoonist in their own right, Lubchansky is also works with other comickers (web and otherwise) on group efforts and anthologies. Let's see what's on deck:
Firstly, Lubchansky is one of a dozen artists that are pairing up with journalist and podcast host Rose Eveleth (Flash Forward) on a new graphic novel about ways to imagine our future(s). Flash Forward: An Illustrated Guide To Possible (And Not So Possible) Tomorrows will contain a myriad of subjects, each expanded from interviews with experts, about what's possible and what probably won't be (which makes it sound similar to Soonish but with more illustrations from more people).

Along with Eveleth's words, pictures will be supplied by Lubchansky, Blue Delliquanti², Box Brown, Ben Passmore, Sophie Goldstein, Julia Gfröer, John Jennings, and more. Five more, by my count. Flash Forward releases on 30 March, is nearly 300 pages long, and is available for pre-orders now.

Just in case you haven't gotten enough Lubchansky — and honestly, how could you? — they're going to be doing a panel discussion with the other editors at The Nib this Thursday, 4 February:


Extremely exciting news: I/@kellywritershse get to host some awesome @thenib editors in conversation on Feb. 4 at 6pm ET

The panel features ~ @MattBors @Lubchansky@WhitTaylorComix and @elerimai ~!

You can watch live on Youtube.

That from writer/cartoonist Alli Katz, with additional event details at Facebook. In case you didn't recognize the other names in the announcement, that was Editor/Publisher Matt Bors, Features Editor Eleri Harris, and Contributing Editor Whit Taylor.
---
Spam of the day:
TruGreen lawn services We know you take pride in your lawn.
My lawn is a morass of divots thrown up by greyhound zoomies, and is currently buried under knee-deep snow. You're high if you think pride comes within a half kilometer of this benighted patch of grass.
_______________
¹ Pre-orders still open!
² Who would like you to know that the events in their signature work, O Human Star, start in-story on 2 Feb 2021. Starting tomorrow, Delliquanti will be re-running OHS on their social media pages, one page per day, with commentary. Dive in if you haven't previously.