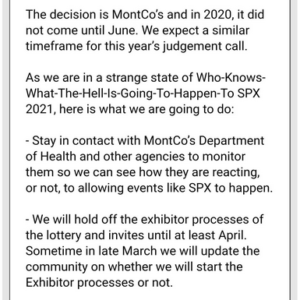 With the uncertainty of everything swirling around, we're all just trying to figure out what happens next. Some thing will happen mostly the way they always have, some things are great big question marks, and and it'll be who knows how long before we know which are which. For creators, there are two things to keep an eye on about now.
The first is SPX, which has taken the step of communicating with the creative community to admit We don't know what life's gonna be like come September. Ordinarily, exhibitor application info would be getting posted about now, and the lottery dates would be announced, but since things are exploding on the COVID front (seriously, people, stay home) and the vaccine rollout has been marked by an almost total absence of unified planning or oversight, nobody knows where we'll be in six or seven months.

Personally, I think that Autumn has a 50/50 chance of returning to public events if people get their shit together now (which … yeah, ain't happening) and people aren't so fearful of public events that they don't stay home. Anyway, good on the SPX organizers for trying to be as responsible as they can at this time.

The second would be the announcement that National Cartoonists Society has opened submissions for their annual awards, of which two categories cover webcomics. What's in question is whether the awards are presented in person or not¹, but the process of submitting, nominating, voting, and awarding will be the same as in prior years.

If you want to be considered, you have until Friday 22 January to get the online form filled out. Remember to only submit a given award to one category, provide documentation that the work was released in calendar year 2020, and look carefully at whether your webcomics work is Short Form (gag-a-day or strip work) or Long Form (ongoing story arc). And, as a disclaimer, I have been a part of the jury process for the two Online Comics categories since 2012² and will be serving in that capacity again this year.
---
Spam of the day:
Deliver the highest-quality face mask from certified manufacturers directly to you at wholesale prices.
Fuckers like you are why I was working with insufficient PPE back in March, April, and May. We spent the summer stocking up before you could raise your bloodsucking head. Die forgotten.
_______________
¹ Even if incoming President Biden can vaccinate 100 million people in 100 days, that's less than half of the number we need to get us to herd immunity, and then you have to wait another 3-4 weeks for the second shot and then another two weeks for the full measure of protection, which puts us in mid-June before we're maybe halfway to our goal. Like I said, September is maybe plausible but the spring and summer are likely to be a second consecutive set of write-offs. I'm sure the recipients of the NCS Awards will get a very nice shout out on Zoom and a lovely package in the mail.
² Except last year; lots of things got disrupted in 2020.