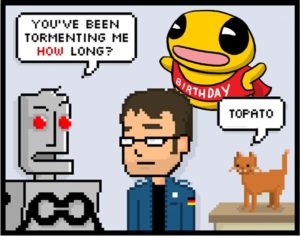 Before we get started, I believe that birthday Version 1.0 release anniversary wishes are in order to everybody's favorite robot pal, R Stevens. Selfless and giving entity that he is, he's celebrated with a great new pin design in limited quantities that ships for free starting tomorrow. Fuzzy nightmare pals forever!
I got my copy of The Nib's latest print collection, Greetings From The Wasteland in the mail today, and it's great. For starters, the collection of political cartoons is in large part arranged by creator, so all of your Pia Guerra cartoons are together, all the Gemma Corrells, all the Kendra Wellses, etc.

Sadly, there wasn't enough space to dedicate to the entire story of the future wasteland cartoons of editor Matt Bors — there would have been no room for anybody else — which, if arranged in the correct order, form a single, coherent story¹. But that's hardly a surprise, given that they had four years of daily cartoons from dozens of cartoonists (15 of which get featured sections) to curate and only 200 pages to play with. Get yours now.

We are facing down the second year of disrupted in-person events, but if there's one thing comics-as-a-community has gotten good at, it's finding ways to shift to virtual gatherings. Thus, the Cartoon Art Museum would like you to know that uncontrolled pandemic² or no, there will be some form of Queer Comics Expo and some way to announce the annual Prism Awards:


Awards will be presented to comic works by queer authors and works that promote the growing body of diverse, powerful, innovative, positive or challenging representations of LGBTQAI+ characters in fiction or nonfiction comics. The goal of the Awards is to recognize, promote and celebrate diversity and excellence in the field of queer comics.

The Queer Comics Expo launched as an annual event in 2014 as a celebration of queer culture and to promote diverse queer representation in comics, animation, and other great ways to tell our stories. QCE also serves as a fundraiser for San Francisco''s Cartoon Art Museum. This year the event will take place May 15-16, 2021. Applications to participate as a creator or presenter for 2021 are OPEN until Monday, March 15, 2021 and will be NOTIFIED by Thursday, April 15, 2021.

You can submit for both the QCE and the Prisms by browsing to cartoonart.org/qcexpo. Submissions for the Prisms are open until 28 February, with finalists announced at QCE (15-16 May) and winners announced over the summer. Categories include Best Short Form Comic, Best Webcomic, Best Comic From A Small To Midsize Press, Best Comic From A Mainstream Publisher, Best Comic Anthology, and Best Comic For Young Readers (new category).

Category-specific requirements vary, but in general all submissions must have been first published in calendar year 2020, be in English, and have prominent LGBTQAI+ themes or be a strong allegory to the queer experience. See the entry form for more details.
---
Spam of the day:
This professor plugged his house to Earth's core… that can harvest the power of Earth's core making him 100% energy independent.
Yeah, I don't have the patience to explain the concept of "electrical ground" to this spamming asshole, but I attended nerd schools — as an undergrad and grad — for six years specifically to learn that the Earth is where electricity goes to die.
_______________
¹ Really, Bors said it himself. Two comics more recent than the book provide the bookends. By the way, their names are Gorm and Tinsel.
² Seriously, people, stay the fuck home, wear a mask, and make people that you know who won't do those things feel your wrath until they decide to stop killing the rest of us.