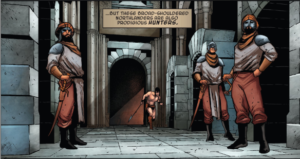 There is a post coming on Wednesday that I need you to know that I wrote a solid damn year ago, and have had scheduled to run all that time. It is, even now, looming both on the horizon and in the shadows, waiting to reveal itself. It is an example of my dedication to the important things in life, and I hope you appreciate it.
Speaking of looming …
You know who can loom menacingly with the best of them? Conan. We all know what he'll say if you ask him what is best in life, but it's slightly less known that if you ask him what's second best in life, he'll tell you that the menacing loom is pretty awesome.
The 240 character limit doesn't often allow our best modern interpretation of Conan to loom a lot, but you know who writes a properly-looming Conan? Jim Zub. He took over the regular Conan title back in February, got two issues out, and then comic publishing fell over thanks to pandemic and Diamond deciding to not do its job while continuing to charge money at every end of the distro channel.
It's been a long road to get series started up again; Ryan North's Power Pack five-parter was supposed to start back in the first half of the year and be done by now, but only got issue #1 out about 10 days ago. Similarly, Karla Pacheco's run on Spider-Woman¹ was delayed some months, but it running pretty regularly now. In other cases, existing series have been indefinitely delayed.
Presumably, somebody in an office somewhere decides when to resume interrupted series, using whatever priorities they have in mind that are mysterious to the rest of us. For example, the last two issues of Ta-Nehisi Coates's run on Black Panther — like the last two issues of his run, period, as it's due to wrap with issue #24 — still haven't released, and over at Dark Horse, Matt Wagner's latest Grendel series has been stalled at issue #4 with no resumption in sight. But Conan finally resumed in October, meaning that the first four-issue Zub arc is now complete.
Not that reading four issues in February, March, October, and November is ideal, mind you, but if you were looking for an awesome story, started reading said awesome story, and then forgot about the awesome story while the world went over a cliff, one could hardly blame you. But it's done, so maybe go back and read the start of the story as you get caught up on the back half. Or wait until March when it gets collected in the trade (which will include this first story arc plus the next two issues), but I'm pretty sure Zub would appreciate you reading it now.
---
Spam of the day:
>>>> BlackFriday – Top 20 Gadgets for 2020 <<<< 50% OFF Mega Sale :)
You're a little late there, Champ. You tried. [thumbs-up emoji]
_______________
¹ Which is terrific if you like your superheroes blowing up helicopters and punching mutant dinosaurs in the face.