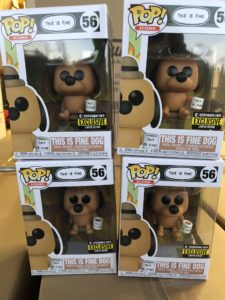 But this? This is fine. Get all your official KC Green This Is Fine merch at http://famous.dog.
---
Spam of the day¹:
Easily and safely clean your ears with Rotating ear cleaner
Oh hell no. I did my time in the power generation/rotating machines lab in college, and the first rule of rotating machines is you keep your body parts away from them².
_______________
¹ Don't think I didn't try to get this up into the title. Oh, how I tried.
² The first rule of power generation is one of your hands is in a back pocket at all times. This is so if you bridge a high potential, the current will travel down your arm, along the side of your body, and out your feet. You'll get gnarly burns along the path, maybe cook an organ or two, and have some nasty wounds at the entrance/exit points, possibly blowing some extremities off. Maybe just a finger/toe or two, but possibly an entire hand/foot.
But the alternative is if both hands are in play, that electrical current will almost certainly want to travel up one arm, through the chest, and down the other in search of its beloved Ground, and along the way it will play merry havoc with the electrically-controlled organ known as your heart.
Or, as Dr Acker shared by way of motivation back in the late 80s: If you allow a current of 100 mA to travel through your chest and heart, it will stop and you will lose consciousness and die almost immediately. If you allow a current of 400 mA to travel across through³ your chest and heart, it will put you into very nasty arrhythmias and you will die painfully in a full panic.
This was before automated external defibrillators, one of which would probably bring you back even from the 400 mA zap. I mean yeah, electrical burns and physical trauma to the heart, but you'd likely avoid the whole dead thing. Note to self: call up alma mater, make sure they require CPR/AED training as a requirement to enter the power gen lab. If not, yell at them.
³ This was edited after publication because I made a rookie mistake that shamed me when I noticed it was published to the wide world. Potential (or voltage, if you're nasty) is across, current is through. Words have meanings.