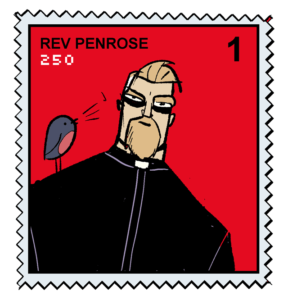 It's December! How in the crap-hell did that happen?
Anyways, you can celebrate the incipient end of this dumpster fire of a year¹ with any of the following sources of delight and joy.
There have been magnetic comic sets before, but how many of them have involved little tiny magnets reading Balrog, Klingon or Fudgies? I submit: None.

None, that is, until Los Angeles resident Dave Kellett decided to get into the game. Behold: the Sheldon magnetic make a comic set, which is up for preorder and if the stars align will make it to your US address in time for Yule. Everybody else, invent a holiday in January.

I just have one question, LArDK: can I make a comic that refers to Fatty Chunklins? If not, I think you owe us an explanation.

You must needs acquire every one! John Allison has launched the Advent season with a series of collectible stamps which may be redeemed for fabulous merchandise.

I think perhaps kids these may not ever have experienced the thrill of getting S&H Green Stamps, and carefully counting how many were pasted on each page of your collection book, wondering where you could get just eleven more so you could could get that fabulous rolling typewriter table. Uh, not that I'm old enough to have done that².

Anyway, now you can get in on the stamp-collection and redemption fun:

You'll be able to trade in your stamps at branches of Rumbelows, Woolworths and Woolco across the United Kingdom (excepting the Channel Islands).

BUT THAT'S NOT ALL!

Green stamps have a multiplier of 1.1x when redeemed at weekends.
Collect ten red stamps to enjoy a secret multiplier bonus at participating shops. If in doubt, ask the manager.
Rumbelows Hi-Fi Club members get a 50 point bonus on production of your membership pennant.

Last but not least, Happy Twentieth Strippaversary to Little Gamers. It's an infinitely weirder world than when LG premiered in the far-flung past of THE YEAR TWO THOUSAND, and anybody that keeps a comic going for most of 15 years, gets sporadic, then comes back? Props.
---
Spam of the day:
Tact Machete Knife – Full Tang Blade 60% off
Is a tact machete what you use to cut through your prose and make it blunter and ruder? I think we could use with fewer of those, actually.
_______________
¹ As I was typing that sentence, I heard Mary Louise Kelly on All Things Considered refer to, and I quote, a godawful year.
² I totally did and that typewriter got me through college. Word processors weren't always a thing, kids these days.