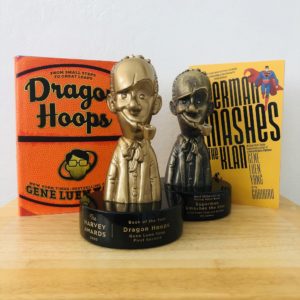 Gene Luen Yang has an answer for you, as the two he scored last month have apparently arrived in the mail. Gotta say, it's a much better likeness than the Eisner globe is of Will Eisner.
Speaking of Yang, he's going to be half of the latest iteration of :01 Books's current online hangout series for these isolated times. They've been running Comics Creators Getting Coffee about monthly since August as an extension of their Comics Relief online events, but I just realized that I hadn't written about them.
More to the point, I haven't really thought about them, because when the first one was announced (with editor Calista Brill and creator Kiku Hughes), I saw the bit that said Instagram Live and immediately tuned out because I'm not on The Grams. Since then, there have been talks between Natalie Riess and Sara Goetter with editor Kiara Valdez, and Brill and Lisa Brown. Me not being on The Grams isn't a reason to not talk about these, though, so this is me informing you that Yang will be talking with Sloane Leong, next Wednesday at noon EST, on the :01 Instagram account.
And, uh, let me know what they say, on account of no account, and also day job. Thanks.
---
Spam of the day:
Coca-Cola Award (£2,000,000.00)
In Russian? Really? Do you not realize that I know the history of American cola-flavored caffeinated soda beverages wrt the Soviet Union? That Eisenhower was personal friends with a Red Army marshal that he got so hooked on Coke that Ike had to convince the Coca-Cola company to produce a version of their bottlecaps with red stars instead of their usual swoopy logo?
Or that later, Eisenhower's vice president (and history's yard waste) Richard Nixon undermined Coke's private supply for the senior army officers in the USSR because he had once been a staff lawyer for Pepsi and was a close personal friend of Pepsi's president, and they arranged for Pepsi to be the first Western mass-market brand to get a foothold behind the Iron Curtain?
Or that after the fall of the Soviet Union and the cratering of the ruble, Russia was so addicted to Pepsi that they traded twenty decommissioned warships for US$3 billion worth of fizzy sugar water, briefly rendering PepsiCo the sixth largest navy in the world? They had 17 submarines, a cruiser, a frigate, and a destroyer!
So yeah, you want me to fall for this scam in Russian, it fucking better be a fake Pepsi Award, not Coke.