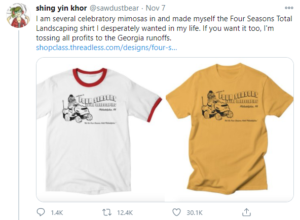 When the histories of this time and place are written, I'm not sure that anything will embody the utterly fruitless flailing of the Trump Administration as calling a Very Important Press Conference starring Insider Goon #1 (Rudy Giuliani) in the parking lot of a lawn service next to a dildo store and across the street from a crematorium, during the middle of which the press all left because the race was called for Biden.
And all of us, I think, want to know what the story is behind Four Seasons Total Landscaping, accidental venue for maybe the saddest, most pathetic outburst in four years of increasingly sad and pathetic behavior. Did Rudy know a guy who knew a guy? Did — and I believe this with all my heart — the campaign think they were contacting the Four Seasons hotel and end up booking the wrong Four Seasons by accident? Did they think we wouldn't notice that the entire thing took place between a fire extinguisher and a hose?
I want the oral history of this fiasco, the podcast series, the dissertation of what the hell actually led to this parking lot on the edge of Philadelphia, but in the meantime I have a new favorite shirt. Friend of Fleen Shing Yin Khor spent some time Saturday night gettin' tipsy and designing a tribute shirt for Four Seasons Total Landscaping with everybody's favorite orange nightmare, Gritty, prominently featured.
For about 24 hours, the shirt was up for sale at Threadless, with the intent of maybe sending five hundo to the campaigns of Democrats Ossoff and Warnock in the Georgia Senate runoffs, as well as to the Stacey Abrams-led Fair Fight, which has done so much to counter voter suppression and gerrymandering in Georgia.
That was the plan, but like everything else about 2020, reality had its own ideas:
tl,dr;

1. We raised $28k+!!
2. This is now a tax problem for me!
3. Please be patient as I sort accounting, and wait 2 weeks for Threadless to actually send/transfer money.
4. Here are my max contribution receipts for the Senate runoff campaigns.
5. Shirt comes down at 2pm PST.
Khor maxed out the allowable contributions under election law to a campaign per election cycle for both Ossoff and Warnock, and will be sending the remainder presently. For a few hours, there was only a tote bag at the Threadless link (benefiting National Queer and Trans Therapists of Color Network), because you gotta have a product there to leave a message saying the shirt are down, because wrangling finances is not Khor's job and they have better things to do.
And then, a few hours later after convos with Threadless, the shirt was back:
SHIRTS ARE BACK! I will be working directly with Threadless to get money directly to voting charities(the ones mentioned earlier)!! However, I am still refusing to offer shirts on black, out of respect for the beautiful oranges of Gritty's fur. Thank you.
Get yours here, and remember: any designs on Etsy or elsewhere (all of the ones I've seen being considerably more expensive than Khor's versions) are knockoffs by lowlifes that need to be reported.
And let it never be said that we at Fleen don't step up, so the Fleen Fight For Fungible Futures Fund is back in business. I will match all donations to Fair Fight up to US$1000 between now and when I get my shirt in the mail (damn right I ordered one). This is the one time you should accept the USPS being a little slow.
Spread the word, email or post your receipts, cost me some money, and let's put McConnell out of his godsdamned office.
---
Spam of the day:
Bear Grillz shared a new online system for earning!
I think they're trying to make me think of Bear Grylls, but instead they're making me think of a bear that grills, or possibly a bear with grillz. That last one is frankly terrifying, but a bear that grills is awful close to something that Ryan North and Erica Henderson shared with us and is thoroughly awesome.