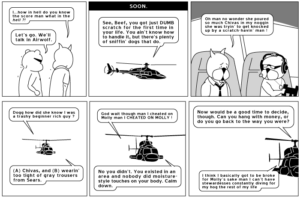 I have to be honest, I didn't expect the Jeffrey Toobin story to prompt a Hold my beer moment from Rudy Fucking Giuliani within 48 hours. I really dread what the Friday after-hours newsdump may bring. Fortunately, there are good things happening even amidst the ruins of Culture.
I'll admit, this one caught me by surprise until I saw the review at The AV Club yesterday: Allie Brosh of Hyperbole And A Half has a new book out! Since the site hadn't had updates since about 2013, I hadn't been keeping up. I mean, I'd go back every once in a while to make sure it was still there (I refer EMT students to the Improved Pain Scale every class I teach), but I'd figured that Brosh had moved on to other things.

Nope! Last month there was a typically Broshian book announcement, wherein you got to choose how much irritation and/or weirdness you wanted in your experience of learning about Solutions And Other Problems, the first chapter of which Brosh has thoughtfully shared with you. I don't have a copy in hand, but looks like she's missed no steps in her nuanced view of life, and I'm looking forward to it greatly; I'll wager you are, too. Order here

Speaking of books, you know what's better than a book from somebody whose work you enjoy? How about three books from the most relentlessly joyful somebody whose work you absolutely enjoy-verging-on-adore? I speak, naturally, of Lucy Bellwood:


Susan Van Metre at Walker Books US has acquired, at auction, in a three-book deal, world rights to author Kate Milford and cartoonist Lucy Bellwood's, Seacritters, pitched as Pirates Of The Caribbean meets Redwall, about a young badger who joins the crew of a notorious pirate ship as they set out on a new semi-legal career path as privateers.

Lucy Bellwood gets to draw ships from the Age Of Sail and crew them with adorable animals. Folks, I am over the moon, nothing can flout me out of my good humo[u]r.

Publication for the first book is set for 2023.

Godsdammit. Okay, it's okay, that's only a little more than two to more than three years away, I can wait. For something that will undoubtedly be suffused with Bellwoodian goodness, I will wade through the Maelstrom barefoot. Insert any Wrath Of Khan-sounding speech of determination and defiance here that you like, it's all appropriate.

I trust that the very second the books go up for preorder you will be aiding me in sending them to instant profitability, because Lucy Bellwood spends so much of her life trying to provide joy and respite on a daily friggin' basis to everybody, the very least we can do is make sure she gets paid.
---
Spam of the day:
Want to CLONE an affiliate site that is making commissions RIGHT NOW? Well you need this "website cloning" app – which creates an instant "mirror image" of one of the top money-making sites out there:
Prettty sure you just offered to commit a crime, for money. This isn't the only spam I've received offering a way to make money from (quoting here) other peoples websites, so fuck all of you scammers that want to convince yourselves that I'm as much of a thief as you are.