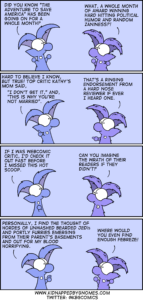 I mean, this is me, right? Kathy Peterson — pardon me, Doctor Kathy Peterson, who like me has spent non-comics time for the past forever dealing with COVID-19 as part of the duct-tape-and-chewing-gum monstrosity that is the American healthcare system, not that I have opinions¹ — has specifically written this comic about me. Is this what negging feels like, because I have an odd urge to do what she says so she'll pay attention and be nicer to me. But seriously, nice promo job², and everybody go check out Kidnapped By Gnomes's election hullabaloo.
In other news, Halloween is a'comin', or likely not if we're being responsible, and that leaves a whole bunch of questions up in the air for what happens in a few weeks. My state/town haven't made any pronouncement about trick or treating, but I'm deeply divided. On the one hand, I'm never the house that stiff kids with crappy candy. On the other, kids are ambulatory disease vectors, and the thought of opening my door to them — no matter how masked all are — gives me the heebie-jeebies and the jibblies.
I could put a bowl out and tell kids to take one, but I don't want to have a bunch of hands pawing through and acting as an infective conduit, even if the emphasis isn't really on fomites these days. And I don't know that I'm ambitious enough to build a candy chute or zipline. Probably I'll tape a bunch of individual candy to the fence that leads to my front door with a sign that says Take One, Be Safe, Happy Halloween.
Or, wherever I am, I could spent the time between now and All Hallow's Eve with the Cartoon Art Museum Scrawl-O-Ween challenge:
This spook-tacular challenge fundraiser features 31 talented cartoonists illustrating 31 Halloween-themed drawing prompts all throughout October!
Featured artists include Jamaica Dyer, Brian Fies, Brad Rader, Andy Ristaino, Sam Viviano, and Judd Winick, but ALL cartoonists of all skill levels are invited to participate! Use the hashtag #scrawloween and join us on Twitter at @cartoonart and on Instagram and Facebook at @cartoonartmuseum to join in the fun!
They did say fundraiser, you'll note. Each drawing from one of the participating artists will be available as a high-res download for US$five bucks, or US$100 for all 31. Original artwork will be auctioned off on the CAM E-bay page at the end of the month, and CAM will give a on individual museum membership away each day to one person selected from those using the #scrawloween hashtag to post their drawings on the sosh-meeds. For those wanting to participate, the prompts are:
01 Cat
02 Cobweb
03 Werewolf
04 Ghost
05 Demon
06 Wizard
07 Mask
08 Monster
09 Fear
10 Vampire
11 Mirror
12 Haunted
13 Midnight
14 B-Movie
15 Cauldron
16 Shadow
17 Howl
18 Tarantula
19 Spirit
20 Eerie
21 Mad Scientist
22 Horror Host
23 Phantom
24 Goon
25 Alien
26 Goblin
27 Pumpkin
28 Witch
29 Tombstone
30 Strange

31 Trick Or Treat
Happy drawing, and good scares, everybody.
---
Spam of the day:
When I was 18 I was a raging bull-man? I'd wake up with a hose solid enough to put out a small garbage fire?now I'm like halfway there on a normal day.
No shit, this spam comes to me with a return address of Alexander.Jones@[redacted] and you cannot convince me it's not the Alex Jones. I can absolutely see that belligerent, bellowing, unhinged nutjob being deeply obsessed with his actual, personal hose.
_______________
¹ Namely, if you don't stay the hell home and wear the fucking mask, you are a godsdamned ignorant, irresponsible, reckless asshole who is trying to murder me and everybody I love, thank you, I will not be taking questions at this time.
² Because the last thing I need is another by-the-numbers press release that came straight out of the boilerplate factory.