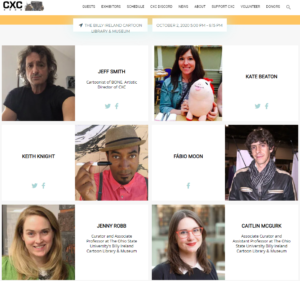 Okay, it was actually Sunday, but that's not when things are happening and the alternative was … less good.
Friday is, of course, the start of CXC, the first without director Tom Spurgeon, and the first (not to mention hopefully last) that needs must be distanced. The guest list is deep and impressive (and features Fleen faves like Box Brown, Faith Erin Hicks, Shing Yin Khor, C Spike Trotman, Ben Hatke, Maris Wicks, and more).

Exhibiting is going to be remote affair, but there's so many good creators on the list, many of whom you'll be able to catch during the programming. Okay, okay, the pre-keynote programming actually starts on Thursday the 1st, but the official start of the show is on Friday with a keynote speech by Gene Luen Yang (4:00pm EDT, details here) and a Jeff Smith-hosted opening reception at 5:00pm EDT (registration required)

Other events to keep an eye on (all times EDT):

All those registration links? That's if you want to participate; you'll get a personal (and traceable) Zoom link, which should help to keep griefers and Zoomboombers the hell away. All sessions (except for those designated adults only) will appear at the CXC stream, on Twitch, and YouTube, and I've barely scratched the surface on the interviews, workshops, how-tos, and Discord hangouts.

Speaking of both Friday and Spike, and heck also porn, the Kickstart (a short-run campaign, only 12 days start to finish) for Iron Circus's latest quality pornographique ends on Friday. Patience & Esther by SW Searle is 280 pages of Edwardian erotic as the two title characters navigate feels, shifting mores, and — given that this is an Iron Circus NSFW title, I'm confident in saying some hot, hot gettin' it on.

If you're on Spike's mailing list for something other than all-ages titles? Check your inbox, 'cause you've probably been sent a link for the full first chapter, full of upstairs/downstairs class divisions, scene-setting, character backstory, and body positivity.

Oh, and for anybody grumping about how Esther isn't lily-white despite being in England, exactly what do you think happened to all of the unintended children of colonizers and the servant classes around the world? However many of them you think made it from the far-flung corners of the Empire back to Jolly Old, I guarantee you it was more, by an order of magnitude or three.

Patience & Esther has currently raised US$32.2K (of a US$12K goal), and given the immense inrush of funding on day one and the short duration, has already demolished both the FFF mk2 (and the McDonald Ratio won't help, as there's simply not time to triple the initial funding period). Top funding level is a mere US$20 (plus shipping) for the physical book, so maybe get in on that? Y'only have a few more days to decide.
---
Spam of the day:
Nro Code:(o8983B) – Users Say Its Better Than Implants
Unless it's the kind of implants that let me fight criminals (a cowardly, superstitious lot), not interested.