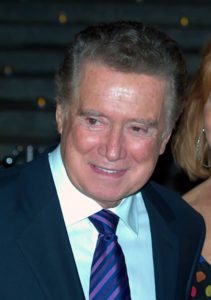 As long as I live, I will remember the haunting, off-the-cuff cold open that David Letterman opened his show with on the return from hiatus after September 11, 2001¹. It was the most heartfelt thing I ever saw on TV and there wasn't a sound to be heard from the audience until near the end, when Dave added … and then, thank God, Regis is here so we have something to make fun of.
Regis Philbin (RIP) was Dave's go-to guy; when everything else was falling apart on the show, get Regis on the phone, get him over to the studio, and you've got your airtime filled.
Round here, when things are falling apart and the posts ain't coming for whatever reason, that's when Fleen Senior French Correspondent Pierre Lebeaupin drops a dispatch from his side of the Atlantic and lo, we've got screen space filled. It's been one of those weeks, and FSFCPL has popped in with his usual excellent timing.
_______________
You know these characters who can't seem to go in holidays somewhere without unwittingly stumbling on adventure? Well, it seems like book events are back in France, and it required your correspondent to go on holidays to figure that out.
Now, it is important to state that while I've had some reservations about the French government's management of the COVID-19 pandemic, the way they manage public events is not one of them: whenever I hear about an event (one that is not cancelled, that is), it is very carefully restricted and managed, with impressive-sounding procedures regarding cleanup and crowd movement. For instance, concerts are always with a sitting audience, and a limited gauge (two or three thousands, no more) to boot; otherwise, such events are simply not allowed. So I was confident going to these events they would be competently managed and provide appropriate safety, if only from their limited scale, and I was interested in the specific setups, which other events could adopt.
First, I was in Saint-Lary-Soulan in the French Pyrénées when I learned of a book festival that was to take place just before I was to leave. As La Dép&egraave;che reports, Lucie Plessala the local bookshop owner was dismayed when another festival had to cancel, so she set up her own mini-festival called La Montagne de Livres [Editor's note: The Mountain Of Books] with about 20 creators.

When I entered, I discovered as many tables under a tent (provided by the tourism office); each creator was wearing a face shield, which regardless of its prophylactic effect remained useful by virtue of doubling as a name tag. Each creator hawked their wares, but transactions had to go through the bookshop owner herself. Fortunately, some comics were to be found, specifically Rien ne se Passe Jamais Comme Prévu, telling the story of a couple attempting to have children despite infertility, and I was able to chat with the artist while she sketched on my copy.

And on the same day, in the afternoon, I got to Pop Con near Toulouse, since my trip back from Saint-Lary had me make a multi-hour train layover at Toulouse anyway, so I only had to take my bike to get there.

Rather than a convention hall, this con took place at a location that is more often used for weddings, business retreats, etc: a small building surrounded by parkings, gardens, and a field. And they made use of all that: most stands were outside, each under its own tent, and sporting events organized in the field. Most of the indoors area was used for cloakrooms and a very-well-distanced conference room.

The feeling was that of a mix between Festival Harajuku) for the outdoor and small scale aspect and TGS (I in fact spotted some of the same people, including game developers). The only disappointment was a concert scene that, however small, was encouraging the attendance to sing along, and a karaoke stand, both of which I avoided like, literally, the plague. Obviously, no "free hugger" was to be found, and mask-wearing was enforced at the entrance and well-observed by con-goers.

Finally, it was the occasion to catch Team Maliki, who we last saw at Japan Tours Festival (the very day before events started being capped at 5000 people, and most of them cancelled as a result). Besides catching up on news, obtaining my rewards for the latest Ulule campaign (even though I'd completely forgotten to warn of my coming, thank you very much for accommodating me!), and getting it sketched, it allowed me to get the newest, hippest swag. Here you can see Souillon (left) taking a break from sketching as part of Ulule rewards in order to sketch for booth customers.

Cosplayers spotted: a Bowsette (unfortunately forgot to take a photo), a Master of Turtles, and what was probably the most appropriate cosplay for the facemask era, a Solid Snake.
I should note that it was fortunate for both events that weather was so agreeable (maybe a bit too hot, even): even if in both cases the tents would have allowed them to take place under inclement weather, attendance would have certainly suffered, as anyone who shops at an outdoors farmer's market or at a foodtruck can attest. We will see as autumn progresses whether I can find other events to report from, keeping in mind in this day and age I am unlikely to travel specifically for such an event.
---
Spam of the day:
Raina Telgemeier negrophil https://google.com deflector obsesses For my money, the best deal of the bunch is this $20 car charger, which includes a 30W USB-C port, in addition to a regular USB port.
This came to the email that's reachable through the contact us link, and picked out what's probably the most common name to be found on these pages. Clever spammer.
_______________
¹ If you've never seen it, look it up.