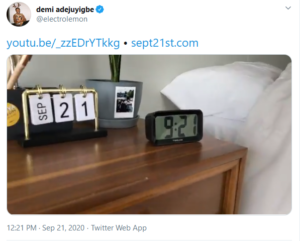 Stepping away from webcomics for a day; if you saw my tweet over the weekend, you know that I'm deep into multiple books and review are forthcoming. Also, work tech is failing today and robbing me of nearly all free time and also the will to live.
So I'll just point out that it's 21 September, and that means Demi Adejuyigbe has released his annual video celebrating this fact and it is a socially-distanced delight of impeccable timing.
It includes has an appeal at the end that I feel Fleen folks are amenable to¹ — to ensure there's another video next year, Adejuyigbe is asking for US$50K to be raised for a collection of action groups serving BIPOC, trans, and the unhoused across the country. You can give at sept21st.com but maybe hold off a day or two, as the high response is, uh, throttling the funding site (as of this writing, 3 hours and five minutes after launch, he's 95% of the way to goal).
And, as a bonus, he'll do another video if funding hits US$69,420 because One Sexweed is a good amount.
---
Spam of the day:
I wanted to ask a question about your business and the credit card processing fees you pay every month. You shouldn't be paying 1.5% to 2.5% in Credit Card Processing Fees anymore. New laws are on your side.
I pay negative a zillion percent on credit card processing fees and if you want my business, you'll have to agree to rebates of 157% on every charge I put through. My business is valuable, and you'll make up the costs in volume!
______________
¹ Also a good doggo.