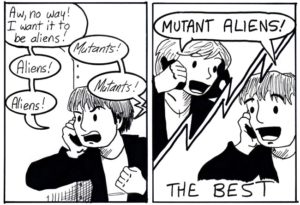 Whee doggie, buncha news for you today (okay, some of it's a couple days old but today's when we got to it). Let's dig in.
It was just about two weeks back that we told you about the Kickstarter for Skin Horse books 9 and 10, which turned around and funded promptly as we all knew it would. The news is that we're into second stretch goal territory and that means something truly wonderful is on the horizon:


If this campaign reaches $25,000, I will draw a new season of my X-Files recap comic Monster of The Week.

I'll be tackling Season Six, which includes a body swap two-parter, Mulder and Scully posing as a married couple in the suburbs, and the episode that got Bryan Cranston his job on Breaking Bad.

People. You want this. Go back to the start of the MOTW archives and start reading. Shaenon Garrity gets to the essential core of what is, at its heart, a fairly ridiculous show. Think of all the episodes you can recall: killer mites, Flukeman, Clyde Bruckman, killer cockroaches, Alec Trebek and Jesse Ventura as Men In Black, Skinner's Big Day Out, killer bees, inbred cannibal hillbillies, Scully's Big Day Out, Fake Mulder's Big Day Out, the flashback that definitively tied The X-Files to Homicide: Life On The Streets and thence to the Tommy Westphallverse … all of them are reduced to the creamy center of ridiculousness that is the heart of every X-Files episode.

It's been more than two years since we got Garrity's take on Mulder, Scully, Skinner, and all their wacky pals, and it's high time we got them back. There's 15 days and less than US$1500 to go to make the magic happen.

Know what I hate? When a domain name retires and gets snapped up by scammers, particularly when there is zero chance than anybody would go looking for what the site originally represented and would think Oh yeah, I really wanted Vietnamese knockoffs of fast fashion. Case in point: Steve LeCouillard once did a webcomic called Much The Miller's Son, about one of the lesser-known members of Robin Hood's band. That link is from the Wayback Machine because the current destination of the URL is trying to entice you into a hookup site and/or sexcam site because … yeah, got nothing. If you have even a marginal number of hits and your domain goes idle, it's gonna get snapped up because they figure somebody will look for it five or ten years later.

Anyhoo, I'm mentioning this because LeCouillard is Kickstarting an omnibus of all the Much stories, including some that have never seen print or even online release. If you know LeCouillard from his barbarian mom story or his collaboration with Karla Pacheco, the filthy, filthy pirate tale Dreadful Sirens¹, you know that he puts together a great story with great visuals. Hop on over to the Kicker and help him to goal. Inexplicably, he's 8 days out from the end of campaign and only 41% of the way to the exceedingly small CA$7000 (approx US$5300) goal. Don't let this one fail.
Y'know, I had three other books to talk about today, but running things down on the Internet Archive is a time-consuming business, so we'll come back to them tomorrow. See you back here then.
---
Spam of the day:
Amazing Invention Takes Over Control of Any Barking Dog
I have a greyhound. They are notoriously rare barkers.
_______________
¹ That one is from the Wayback Machine because the original is offline which … it was full of NSFW stuff which would seem to make it a natural for appropriation by scammers, but it hasn't been. Weird.