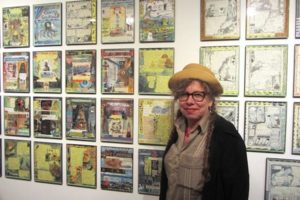 You know, what with two different sets of comics awards being given out, nominally from different coasts but practically speaking all from the confines of cyberspace.
On the delayed hand, you had NCSFest handing out the various NCS Division Awards, along with the Reuben¹. In the Online Comics categories, you had wins by Alec Longstreth (Long Form) and Jim Benton (Short Form); the latter wouldn't have been my votegetter if I had a vote, but I can't say it's undeserving; I can say it was probably the most familiar work for the membership who, as previously noted, notoriously skew old.

Which might explain why The Reuben itself went to the oldest nominee, one with a career stretching back four decades. A'course, the oldest nominee is the deeply subversive living legend Lynda Barry, whose work is most definitely not what I'd have expected the older members to vote for. It's hard argue with the choice, and easy to argue that there might not have been a Raina Telgemeier if not for Lynda Barry's deeply personal, memoirlike work (which started in print when Raina was about 2 years old) blazing the way. So no complaints here — Raina's mantlepiece is getting a bit crowded anyway — and I suspect every one of the other nominees up for the top prize agreed that Barry was the right choice.

As a side note, I see that Joe Wos — once a recurring name on this page during his years of directing Pittsburgh's now-folded Toonseum — was given the division award for Variety Entertainment for his Mazetoons. Congrats, Joe.

And on schedule (although distanced), the Ignatzen were also presented on Saturday, and managed a simultaneous best-and-worst outcome in the same category. Do a quick refresh on the dilemma that the Ignatz Awards found themselves in this year and you'll understand. Rosemary Valero-O'Connell is a creator whose work I deeply admire and, I daresay, a friend. The work for which she was nominated as Outstanding Artist, the short story collection Don't Go Without Me, is magnificent and entirely worthy of the brick.

But Valero-O'Connell was also on the jury. And while I stand second to no person in my love of and evangelical fervor for her work, and I recognize the accomplishment of being only the second person to win Outstanding Artist twice² and the only one to repeat in back-to-back years, I wish that it hadn't happened. I do think that this situation has lessened the credibility of the Ignatz Awards, and I really, really hope that they write some ground rules to ensure that this appearance of a conflict of interest cannot happen again.

Looking at other winners, Ebony Flowers has had nearly as good a year on the awards circuit as Valero-O'Connell; last year she took the Promising New Talent brick for the short story Hot Comb and this year for the expanded print collection incorporating it (also titled Hot Comb), she's recognized for Outstanding Graphic Novel. Ariel Ries received bricks for Outstanding Online Comic (for Witchy) and Outstanding Comic (for Cry Wolf Girl); if you weren't following her work before, you really should be.

Outstanding Anthology went to Be Gay, Do Comics by the various contributors of The Nib. Look, you know that on a daily basis, it's the most wide-ranging source of original editorial and nonfiction comics around, with a list of contributors that kicks every ass. Curating their best work on a theme is something that Matt Bors, Eleri Harris, and Matt Lubchansky were going to throw themselves into, and produce something terrific.

Speaking of The Nib, Whit Taylor's contributions there have always impressed the hell out of me (as well as everyplace else her work runs), and today she must take some solace in the fact that after two years of utter bullshit being inflicted on her in the form of a baseless lawsuit³, her Fizzle took the Ignatz for Oustanding Series and nobody can remember that other guy's name. Seriously, I had to look him up, whereas members of The Eleven keep getting recognized for their work. It was a long, expensive, pointless road, but I have to imagine that the heft of that brick is gonna feel really good in Taylor's hands.
---
Spam of the day:
As of today there is a limited supply of LUMIGUARD Solar Motion Sensor Floodlights Click the Button below to find out if they are still available.
I got something like this for literally twelve bucks at the local hardware store two years ago. It picks up the neighborhood outdoor cats when they wander by after dark. Why exactly do I need your more complicated and expensive version?
_______________
¹ Yes, yes, common parlance refers to all of these awards as Reubens, but the term proper applies only to the Cartoonist Of The Year, the one chosen by the entirety of the NCS membership rather than those of a particular area. It's the COTY that gets the fancy Rube Goldbergian trophy, where the division winners get a (admittedly, handsome and heavy) plaque.
² The first being Jaime Hernandez in 2007 and 2012.
³ Which resolved after tens of thousands of dollars of legal fees and the plaintiff not getting his US$2.5 million, which is apparently the going rate for butthurt in the first degree.