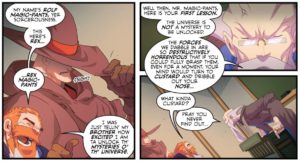 Tie-ins, at the very least. Let's see what's up.
There have been numerous adaptations of Girl Genius (by Professor and Professoressa Foglio) into other media over the years — novelizations, radio dramas, card games — and they've expanded to a new frontier now with vidyagames. Girl Genius: Adventures In Castle Heterodyne takes its inspiration from the Castle Heterodyne mega-arc (running roughly from here to here, or about six years of comics), which gives a whole lotta room to play.

The game itself is made by Rain Games of Norway, who appear to have a track record making games of this sort, but not crowdfunding — this is their first Kickstarter campaign. Goal is set at a reasonable US$200K, but they've got stretch goals reaching improbably as high as one million dollars which … I don't think I've ever seen stretch goals go as high as five times base funding and actually be met.

There's a huge ask, so the FFF mk2 may not work so well — the trend held really steady for the first couple of days then dropped hard, giving a prediction of about US$135K-200K, which puts goal at the upper end of the range. The McDonald Ratio is predicting about US$150K total, which is worrisomely low.

Again, this isn't the sort of project that the predictions were trained on, so we'll have to see, but with 6 days down and 24 to go, the project sits at 31% of goal at present, and video games are both notoriously expensive, and have a tendency to run over both time and budget. We'll have to see.

By contrast, paper-based games are quicker and cheaper to develop, and oftentimes the creator of a comic is deep into a particular game, which helps. Enter: Jim Zub, who's already got a dedicated Skullkickers">Skullkickers tabletop game in development, but who also decided to mark the 10th anniversary of the comic by releasing the first new Skullkickers story in five years inside a 5th edition Dungeons & Dragons adventure book.

Skullkickers: Caster Bastards And The Great Grotesque¹ will feature a 30 page story and 60 page adventure campaign, featuring new spells, game mechanics, magic items, and monsters, adaptable to whatever game you're currently playing.

As I may have mentioned previously, I haven't played D&D since it was called Advanced D&D waaaay back in my college days — before 2nd edition was a thing — and I'm heartily tempted to get this because a) Skullkickers is hilarious, and b) the love that's pouring out of the game portion of this book is apparent even through the distance of the internet.

Zub's been writing official D&D comics for a couple a' years now, and went so far as to shave his head to better get into character for a live game last year. He's mentioned multiple times that his course in life was irretrievably set from discovering D&D at the age of 8, so when he tells me that he's picked out some top-notch game designers to make the playable part of this as good as it can be? It's gonna be good.

And, as an added incentive, the crowdfunding/fulfillment parts are being run by George, who mentioned casually he is approaching his 100th crowdfunding project managed, so I think he just might have a handle on how to keep everybody on track. Just a hunch. It's a little early to apply the FFF mk2 math, but somewhere around a day in, they're at 64% of the CA$22.3K (or US$16,843) goal with 23 days to go, so I think this one's gonna fund. In case you were wondering, only one of the top tier reward (where, among other things, you appear as a wizard character in Caster Bastards) remains as of this writing.
---
Spam of the day:
Hello! I saw you the other day and I really liked you. I live in a neighboring yard, alone) let's meet at my place?
This town's ordinances don't even allow dogs to live in yards, they have to have access to the house. Besides, I know my neighbors and none of them speak Russian like you do.
_______________
¹ I'm sure the similarity of that title to Hamster Huey And The Gooey Kablooie is mere coincidence.