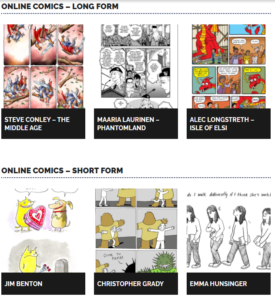 Just under ten years ago, David "Damn You" Willis launched his rebooted Walkyverse¹ comic, Dumbing Of Age. In the 9 years, 11 months, 3 weeks, and 5 days since then, the story has progressed from college move-in day through about … eight weeks of story. Up to midterms or so, a rate of about 5 days of story time per real-world year.
Since Sunday, the story has wordlessly jumped forward three whole months, saving us about 15 years of daily reading. Given that Thursday is the actual tenth anniversary, I expect we'll get one more timeskip update tomorrow, and we'll finally reach second semester on Thursday. Which means that in four strips, Willis has shifted the rate of story time:real time up to ten years per sememster, meaning we'll see graduation sometime in 2090 instead of 2170 at the old rate.
Given that comic strips have a long history of being passed down to third and even fourth generation creative teams, I have no doubt that Dumbing Of Age will still be running when graduation comes in, whenever that may be. In any event, congratulations to Willis on ten years of DOA and 23 years of continuous webcomicking. That's a damn big round number.
In other news:
We're down to the wire on the Ignatz voting, with votes due before 9 September, which means you have until 11:59pm EDT to get yours in. The bricks will be awarded on Saturday the 12th, which is actually a very leisurely turnaround time for the Ignatzen, with the tallies normally taking between close of the exhibit hall and 9:30pm the same day.

For reference, given the poor situation that the Ignatzes have found themselves in, I voted Michael DeForge for Outstanding Artist rather than personal fave Rosemary Valero-O'Connell. In the Outstanding Onnline Comic category, I had a dilemma because the work is all very good. But what do you do when end up with a short editorial comic like I Exist (by Breena Nuñez) up against a words+pictures poem like Like The Tide (by Isabella Rotman), an Insta account of single-panel gags (by Gabby Schulz), and a long-stretches-silent, page-a-week updater like Superpose (by Seosamh & Anka). I tossed my vote to Witchy (by Ariel Ries) because I dig the story. Good luck to all of the nominees.
Know what else is happening this weekend, virtually? NCSFest. I lost track of it in the lockdown, but I got an email today that it's going on this weekend, including the Reuben Awards, which will be broken up into six separate programs (the programming page doesn't have hard start times, but the day's programming starts at 10:00am EDT).

I wasn't involved in the process this year, so I couldn't tell you anything about the webcomic awards beyond what's been publicly shared. The Online Comics — Long Form nominees are Steven Conley for The Middle Age, Maaria Laurinen for Phantomland, and Alec Longstreth for Isle Of Elsi. The most interesting thing there is that Phantomland is on Tapas, which is about three revolutions in comicking beyond what a large part of the NCS membership is aware of.

The nominees for Online Comics — Short Form are Jim Benton, Christopher Grady, and Emma Hunsinger. The short forms don't have specific titles to go with the creators, but I'll wager that Hunsinger is on the list because of How To Draw A Horse as much as anything else. That's magnificent work, but so is Grady's Lunarbaboon. Benton's a one-man IP factory, but I think he's outclassed by the other two.

But the Reubens news that has me most curious isn't in the Online categories, it's the Big Award Of The Night, the Cartoonist Of The Year, the one that's gone to folks like Schulz, Johnston, Watterson, Larson, Trudeau, Amend, Thompson, Guisewite, and other legends of cartooning. The nominees are:

That's three solid practitioners of the comic strip and one living legend in Lynda Barry. Also, four nominees where normally there are only three². Also, three women. And … wait, I'm being told that there's a fifth nominee:

Okay, the NCS almost never nominates somebody whose work is outside the newsprint mode — comic strips, editorial comics, magazine work, all periodicals is my point — and the last one to win Cartoonist Of The Year from outside that world was Matt Groening back in 2002³. I don't think they've ever recognized a graphic novelist, and certainly not anybody whose medium is middle grade autobio aimed at girls.

That sound you hear is the industry coming to grips with the fact that the literal Old Boys Club is fading from existence and getting replaced by those damn Millennials. Gonna have to figure out when that broadcast is and pay some damn attention to it.
Edit to add: The NCSFest schedule page now has start times for sessions, instead of just durations.
---
Spam of the day:
Currency printed is NOT wealth, real wealth is what we produce (in terms and goods and services) and exchanged for currency (a measure of your productivity).
Oh crap, this is a pitch for some new blockchain fantasy, which is even more of a fiction that actual money. Go peddle your shit to somebody that's bad at math.
_______________
¹ So named because a series of related comics — Roomies!, It's Walky!, Joyce And Walky!, and Shortpacked! — had one David "Walky" Walkerton as a central character, to whom all of the others could trace relationships. The Walkyverse itself debuted 13 years to the day before DOA.
² I mean, since Pastis broke his Susan Lucci streak last year, may as well open it up. [shrugmoji]
³ Okay, Glen Keane, animator, won a couple of years ago, but being the son of Bil Keane of The Family Circus means he's part of that world. The only others I can think of are Sergio Aragonés and Will Eisner, the latter of whom won in 1998 — well past his creative peak, and clearly as a lifetime achievement.