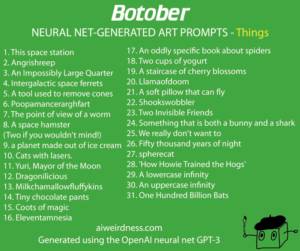 Just kidding! If you were to feed the corpus of Fleen's output (even just the stuff that appears under my name) into an AI and ask it to come up with a post, it would be nothing but lengthy sentences — excessively complex, even — with an abundance of parenthetical thoughts, and plentiful footnotes¹; they'd also have probably too many semicolons, as I do tend to go on at length. Approximately 5% of the content would read just a bit more formally, and be sprinkled with references to the Franco-Belgian bandes dessinées scene.
On the whole, it might not read significantly more nonsensical than some of my weirder stuff, though. But comics need to follow language rules that are different from prose — the introduction of pictures, word balloons, panels, and other visual elements can significantly change the plain meanings of words.
That hasn't stopped some folks from seeing what they could with an AI and comics, though. Ryan North used a GPT-3 AI model to generate descriptions of Star Trek episodes and tweets out the best ones. Then he asked it to create the back half of a Dinosaur Comics strip, after coming up with the first half himself. The result was recognizably Northian, but not so much as an alternate strip that really nailed T-Rex and Utahraptor, but was too verbose to be used.
So it's probably no surprise that an AI has been used to construct something comic-adjacent, as pointed to me by the Twitterfeed of Dylan Meconis:
I've been sending this list to friends and enemies alike all day long and it has universally reduced them to rubble. My October is now spoken for.
The list is question is for Botober, the AI bot-generated set of drawing prompts for the month of October, courtesy of Janelle Shane and GPT-3; it wasn't trained specifically on drawing prompts, and thus a fair amount of curation was necessary to come up with 31 suggestions that wouldn't melt brains. Earlier runs produced items like 5. An object that is not a doughnut but is also not a flower and 11. Ice cream flavor tuxedo and 23. Not an imitation of a pile of logs. Shane talked about how to get an AI to generate a list of prompts, and a couple of goes later came up with 31 items that range from Yeah, okay to What on the weirdness scale.
In case you don't want to click through on the list above, I've transcribed the 31 official prompts for Botober for your drawing pleasure below the cut; spelling and punctuation match Shane's original (with comments following a long dash). I expect to see your interpretations of and widely distributed on their respective days.
Oh, and don't forget — free graphic novel for you, maybe.
---
Spam of the day:
I really need a man for infrequent intimate dates without obligations. On my territory. I live nearby.
I chose the spam that sounds the most botlike, although that could just be because it was originally in Russian and machine translated.
_______________
¹ Probably mentioning how Brad Guigar is a sexy, sexy man.
This space station
Angrishreep — I think you can be forgiven if you read that as sheep rather than shreep.
An Impossibly Large Quarter
Intergalactic space ferrets — This sounds great!
A tool used to remove cones
Poopamancerarghfart — Oh heck yes.
The point of view of a worm
A space hamster (Two if you wouldn't mind!) — That parenthetical is original.
a planet made out of ice cream
Cats with lasers.
Yuri, Mayor of the Moon — I quite like this one.
Dragonilicious — The anthro artists are already doing character studies.
Milkchamallowfluffykins — This sounds like a made-up snack food, much like Los Angeles resident Dave Kellett's Fatty Chunklins².
Tiny chocolate pants
Coots of magic
Eleventanmesia — … okay.
An oddly specific book about spiders — I think this is going to be the highlight of the month.
Two cups of yogurt
A staircase of cherry blossoms
Llamaofdoom — This is the most metal thing I have ever read.
A soft pillow that can fly
Shookswobbler — Sounds like trademarked sex toy from an adults-only Harry/Draco fanfic.
Two Invisible Friends
Something that is both a bunny and a shark — This could be almost unbearably adorable and/or horrifying.
We really don't want to — Intriguing.
Fifty thousand years of night
spherecat
'How Howie Trained the Hogs' — 30 to 50 of them, presumably.
A lowercase infinity
An uppercase infinity
One Hundred Billion Bats
_______________
² That comic is the start of a delightful story arc, be sure to read the whole thing.