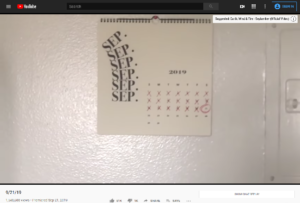 There are, if my math is correct, three things to look forward to next month. The first and most important, of course, is seeing what Demi Adejuyigbe comes up with on the 21st. If you're not familiar, check it out here, here, here, and here, and watch the Twitter thread on the day (It's a Monday this year).
But nearly as important is SPX, which will be going virtual this year. Along with the distancing required, there a delay in getting information on the page, with the exhibitor, guest, and programing pages still to appear. But one aspect of SPX that is inextricably linked with the festival is up to date, and it's a doozy.

The Ignatz Awards are, famously, voted on by the attendees of SPX. Attend on Saturday, walk the floor, talk to creators, drop your ballot in a box before you leave. Between the close of the hall and the awards ceremony, volunteers work through the dinner hour to count the votes and prepare the presenters for what's easily the most democratic comics award out there.

There may not be any ballot boxes, or a floor to walk on Saturday, but the Ignatzen will go on, and the most democratic comics award is opening itself up to an even wider electorate:

Sign up to vote for the 2020 Ignatz Awards!

In exchange for your Name and Email Address, we will send you a 2020 Ignatz Awards Ballot. We will never sell, loan or give this list to a 3rd Party. SPX keeps its emails to a minimum, so we will not Spam you either.

[Editor's note: the folks in charge of this year's deeply flawed Eisner voting might want to get in contact with the Ignatz folks, see what a vote-by-mail looks like. It would be vastly preferable to what they've been doing.]

I've requested my ballot, and hope that you will as well. There's a plethora of great comics released all the damn time and this is your chance to recognize the best of the best.

And have we all remembered that this September is when Ryan North's adaptation of Slaughterhouse Five — with line artist Albert Monteys and colorist Ricard Zaplana — comes out in September? Specifically, the 9th. There's a first look out today and while I'm not familiar with Monteys's work, the designs in that preview look well matched to North's sensibilities (which, it goes without saying, mesh perfectly with Vonnegut's very serious absurdism). Order yours now, avoid the rush.
---
Spam of the day:
Get Paid $25 per hour to watch YouTube videos
I should note that Gmail marked this message as dangerous before they delivered it to me, meaning that they well know what an open sewer YouTube can be, and if somebody wants to pay you to watch videos, they're probably a godsdamned Nazi. Pass.