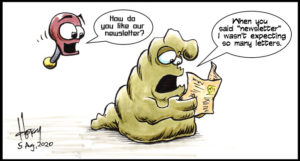 Thursdays, fam. Thursdays. No day of the week is a draggy and uninspiring as Thursdays, not even late Sunday afternoon. Not much happening within my noticing today¹, so let's just take a peek at a couple of items and see if we can make it to Friday, Gateway To The Weekend.
Howard Tayler² has been busy with a whole lot of nothing of late, and good on him for that. Okay, in my quick glances at sosh-meeds, I did learn more than I wanted or needed to know about him getting a colonoscopy³, but mostly he's having some time to himself and all right thinking folks should approve of that. He's also working on finishing up a Kickstart that was sidelined by the dual whammy of health and lockdown.
He's also too creative a guy, with too many projects and stories inside, to stay away for overly long. If you're like me, you've still got Schlock Mercenary in your daily bookmarks because a habit of 20 years doesn't go away after a couple of weeks. Actually, if you're like me, you've got the site in your RSS reader, because Google's machinations or no, RSS is the greatest technology since polymerase chain reaction, or maybe the smallpox vaccine. But some of you have given up the paths of righteousness, yet still want to know when Tayler gets back to doing stuff of interest. He's got you covered:
If fear of missing out[*] has you religously clicking in here every day despite the absence of daily updates, if you want to be kept in the loop on all things Schlock Mercenary, or if you want the very basic line art of the above image as a printable coloring page, you should sign up for the Schlock Mercenary Newsletter.
[Editor's note 1: Since he's no longer daily updating, there's not an item-specific link to this announcement, nor can you browse to it with the Next and Previous controls.]
[Editor's note 2: At [*], Tayler had his own footnote, which I am omitting here because it would conflict with my own footnotes. Head over to the site to read his if you're afraid of missing out.]
Meanhile, John Allison may have finished Bobbins, Scary Go Round, and Bad Machinery, but he's still got shorter projects that he's running, one after another. We're coming up on the last week of the latest Destroy History story, after which he informs us we'll get back to Steeple.
It may not take place in Tackleford, but it deals explicitly with ideas of faith and belief, and the next story will be called Secret Sentai which is a concept so perfect that I didn't even know I needed it in my life. And given that the current DH is ending on something almost cliffhangerish, we'll surely get more of that down the line. I love it when creators can hop between projects as inspiration takes them, full of enthusiasm for whatever's next. And Allison, as previously established, keeps getting better, so there's that too.
---
Spam of the day:
Write only if you are grave! My name is Jess. I am 25. My new photos and raunchy videos here
Is this a stealth Shakespearean pun about how tomorrow you'll find me a grave man?
_______________
¹ With the disclaimer that I've largely moderated my social media doomscrolling. I simply can't keep up with all of it, so if there's something I should know, my Twitter habit these days is to maybe look at what's happened in the last 15 minutes, and then maybe refresh once when I'm caught up with that. It's done wonders for my mental health, but I know I'm missing a lot.
² Evil twin, etc.
³ Note to self: you're overdue. To be fair, you had an appointment lined up and then COVID hit. Got to get it lined up, and a dentist appointment to replace the one you should have had. Oh yeah, and you were in the middle of a TB booster series that you'll have to start over. Dang it, pandemic, you are making it hard to manage the slow degradation of my bodily processes.