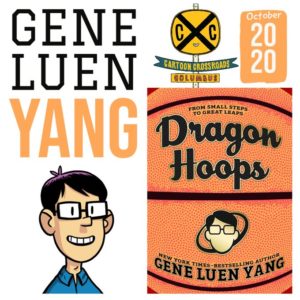 Irene? She flooded my basement, along with my EMS agency's building (the water came up to knee height and we had to rip back to stud on the entire first floor to prevent mold). So the remnants of Hurricane/Tropical Storm Isaias (which are thought to bring not much rain but high winds, with gusts nearly up to hurricane speeds) are doing their best to take power from me today.
They've succeeded twice so far, up to a minute each time, but the ol' backup power supply kept me working. That said, I'ma get a brief post up against the possibility that that high winds that are expected imminently may cause mischief².
So please note the following:
@geneluenyang is coming to CXC!

The author of AMERICAN BORN CHINESE, BOXERS & SAINTS, and DRAGON HOOPS will be a keynote speaker at #cxc2020. The festival will be online & feature rich interactive programs.

More guest announcements on the way!
While you're at it, please also note:
Okay, that's it. If you're in the way of the storm, stay safe. If you're not, stay safe anyway.
---
Spam of the day:
We create stunning websites & put them on 1st page of Google to drive relevant traffic at very affordable price.
Already there, thanks.
_______________
¹ To be fair, the only hurricane I don't have issues with is Hurricane Erika, on account of she's rad. She's also got a dildo review up today that I can only describe as joyful.
Also, I believe this is the first time we at Fleen have ever footnoted from the title.
² We've already got a section of fence knocked down in the back yard. Looks like an easy fix, but won't be able to get out there to determine for sure for a bit.