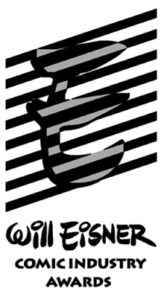 The Eisner awards presentation went up last night, with Phil LaMarr doing a nice job of providing context and hopefully making all the nominees and winners feel like this is significant thing, even with the distance required.
It was a nice touch that the Hall Of Fame inductees (near the end of the program) were given the opportunity to make video acceptance speeches; I'm wondering if the Eisners will reach out to the winners of the 32 regular categories and give them the same opportunity.
Of the six inductees voted in (Nell Brinkley and E Simms Campbell were the historic inductees chosen by the jury), Alison Bechdel, Stan Sakai, and Louise Simonson spoke on their own behalf; Maggie Thompson accepted for herself, but also her late husband Don; Howard Cruse died last year and his award was accepted by Ed Sedarbaum, his husband. Bill Watterson declined to send an acceptance, but honestly — if you had the chance to have an award accepted on your behalf by Sergio Aragonés instead of public speaking, you'd probably do so, too.
Of the 32 regular categories, I called a couple closely-contested decisions, including Ebony Flowers (Hot Comb) for Best Short Story and The Way Of The Househusband, vol 1 as Best Humor Publication. I never did get around to looking at the digital/web nominees (on account of … yeah, everything), but we should acknowledge Chip Zdarsky and Jason Loo (Afterlift) as Best Digital Comic, and Erica Eng (Fried Rice Comic) as Best Webcomic¹.
But let's talk about some Fleen favorites from last year:
Raina Telgemeier took both her nominated categories — Best Publication For Kids and Best Writer/Artist for Guts.
Laura Dean Keeps Breaking Up With Me touched three awards, with Mariko Tamaki getting the Best Writer nod (which included other works for the year), as well as Best Publication For Teens and Best Penciller/Inker for Rosemary Valero-O'Connell.
Tillie Walden was up for three awards, and lost out on the lettering award to Stan Sakai² (who's literally been winning Eisners since before Walden was born) and the writer/artist award to Raina, so no shame in either of those. But I imagine that's made up for the fact that Are You Listening? took Best Graphic Album — New, marking at as the best, single new graphic novel of the year which … damn.
Kindly consider that of the 32 categories and 43 named winners³, 23 were women (25 men and 28 women if you count the Hall Of Famers). Black women, queer women, young women, old women, women going back to the dawn of cartooning are the major force in the creation of comics, and the people that make them — including the people that make cape comics that can only recycle storylines and try to maintain sales with endless reboots, variant covers, and line-wide crossovers — recognize them as the best in the medium.
And given that Walden and Valero-O'Connell are still in their mid-20s and getting better — not to mention teaching and inspiring the creators of tomorrow — none of that is changing anytime soon. That keening sound you hear in the distance is the increasingly-irrelevant cohort of manchildren that want comics to be their boys-only club that never changes, and their tears are delicious.
Weirdly, they didn't announce the Spirit Of Comics Retailer Award in the video, but just as weirdly, they only announced the short list a couple of days ago; the website does mention that Sergio López of Nostromo Sevilla in Seville, Spain was recognized. That makes two years in a row for shops from Spanish-speaking countries, which is just another change for the better — comics is a worldwide artform, and the more people from different backgrounds about, the better it is for all of us.
---
Spam of the day:
Spammers don't get to share the day with these awesome folks.
_______________
¹ As a reminder, Best Digital Comic appears online in comic book format, and Best Webcomic is a longform work created for viewing online, neither of which necessarily describe a lot of the best work being done on the web, which is why Matt Inman keeps getting nominated for Best Short Story, I guess.
² Who had a very good virtual night; Sakai also took the award Best Archival Collection/Project — Comic Books, for the hardcover/slipcased edition of the complete Grasscutter story from Usagi Yojimbo.
³ I'm omitting translators in this count.