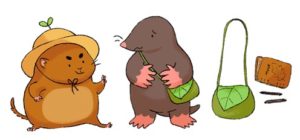 And also because it deserves its own post, naturally
Rosemary Mosco does the best comics about the natural world; this is a fundamental truth. And more people than ever are going to get a chance to share in her Nature Wisdom, because Gina Gagliano at Random House Graphic has signed Mosco and Binglin Hu to a chapter book about a mole and a vole exploring their natural world, then suddenly getting transported to the city. Wild critters in the city? Gee, I wonder if Mosco has anything to say about that.
Expedition Backyard is due in 2022, and I'm going to just recommend you pre-order it now, because it is gonna be great.
---
Spam of the day:
New Miracle Coffee, Infused with " Nature' s Oxycontin" , Is a Breakthrough Pain Reliever for Americans
They mean CBD, by which they want you to think weed.