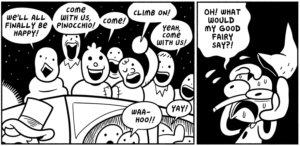 I realize that the title is a bit over the top as well as being a bit old fashioned and awkward in construction; this is only right and proper, as it's an exclamation to accompany the return of KC Green's Carlo Collodi's Pinocchio. A return to the darker and infinitely weirder story than what Disney shared, Green's been doling out chapters for several years now, and with the latest (which would be number 31, he's gotten back to what most of us would consider a familiar part of the story.
To wit: After being carved of wood by Geppetto and generally being a little shit, after being conned by the Fox and the Cat, and taken in by the Fairy, Pinocchio is tempted by his friend Candlewick to head to a land of leisure where it is always Saturday (except when it's Sunday) and there is no school. Trust me, the previous 30 chapters take a much more circuitous path than you've probably been exposed to previously.
Chapter 31 is the crux, the one that initiates the final set of trials for the small puppet, and Green's adaptation is firing on all cylinders. The slightest of shifts in expression or posture convey the inner duplicity of the coach driver, and the exaggerated, affected reactions and posing of Pinocchio and Lampwick reveal their utter foolishness without saying a word. Collodi's original story took up 36 chapters so we're near the end now — there's donkeys and rampaging giant fish in the future, a familial reunion and more a redemption that's more earned than the version with songs¹.
The next few chapters will be chock-full of the bizarrest visuals and situations, the most melodramatic declarations of repentance and defiance, all of which Green is so very good at conveying. Pinocchio has some grief in his immediate future, but you can brew up some coffee with cream and butter some bread rolls on both sides and re-read from the beginning. Just don't tell any fibs along the way, because the Fairy is onto your bullshit. Pinocchio is a classic of literature for a reason, and I do believe that Green's adaptation will long be regarded as one of the truest and most definitive.
---
Spam of the day:
Hi, We are wondering if you would be interested in our service, where we can provide you with a dofollow link from Amazon (DA 96) back to fleen.com? The price is just $67 per link, via Paypal.
Sure you can pay me 67 bucks for the privilege of linking to Fleen. Thanks.
_______________
¹ I mean, did you know that the Grillo Parlante — the talking cricket — was killed by Pinocchio almost immediately after they met? Rather than acting as conscience and guide, its ghost returned to chastise Pinocchio and make him feel as bad as he should on numerous occasions. Or that Pinocchio spent months or years reforming on multiple occasions only to fall back into his degenerate ways, even after Geppetto disappeared and seemingly died?