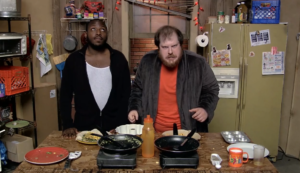 Woo, Thursday. Woo.
Hmmm, he said, in his role as both computer professional and hack webcomics pseudojournalist, that's interesting. That, of course, being the news that the Eisner voting had been extended (tweet from a 2019 nominee, who was contacted by the Eisner folks). I've seen reports (near as I can tell right now, all deleted) that there was a security issue with the voting database, and that voters were being urged to check that their ballots had the correct choices listed. I've also just been by the site, which says voting is now closed. I'm … not feeling great about this, y'all.
Longtime readers of this page may recall that of all the people that Fleen encourages you to dislike and never support, top of the list is James Ashby, aka History's Greatest Monster. So I particularly want to warn you (so you don't accidentally end up entangled with HGM) that Ashby is running a Kickstart right now to revive a YouTube series from years ago, which taught people how to cook with just the cheap ingredients that could be had, things that could produce a mountain of leftovers and be dressed up various ways in their re-presentations.

It was called Hand To Mouth, and it featured the infinitely patient Marque Franklin-Williams, trying desperately to keep HGM from … well, being HGM while simultaneously making potentially sucky food suck less. It ran for three seasons, and Ashby is now back seeking to make a fourth; Franklin-Williams has moved onto other projects but has given his blessing to Season Four¹.

If, for some reason, you think that HGM should be trusted with what you put in your body, I suppose I can't stop you from helping to fund the project, but I would suggest seeing some kind of therapist. I suppose, in the best of all possible world, HGM might be so inept in his evil that he might accidentally provide useful, helpful information to people who need it. I mean, anything's possible, including the outside chance that James Ashby might not be History's Greatest Monster.
---
Spam of the day:
Get your Hemp Infused Coffee Here
I use neither cannabis products nor coffee products.
_______________
¹ Alternately, if he can keep Ashby busy on Season Four, at least he won't have time to get up to any other reprehensible behavior for a while.