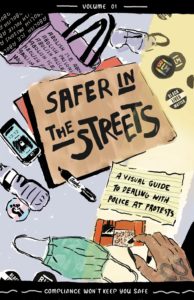 Boy, there's nothing I like more than comics that give me relevant, actionable information that I can use in everyday life. It might be something for the home (lookin' at you, Erika and Matt), it might be a delicious new recipe (what up, Saveur magazine?), or it might be tips and tricks for overthrowing an oppressive policing system.
No, really.
Coming at you from (unsurprisingly) The Nib, there's an entire zine titled Safer In The Streets, full of advice for protecting yourself and others during protests against increasingly violent and irrational police. Highlights include:
Have you noticed the prevalence of kettling, where cops prevent protesters from moving in any direction and then run out the clock until curfew or a declaration of protest illegality so they can descend with force and arrests? There's ways to counteract.
Bike cops! They were supposed to be a kinder, more community-interacting form of policing, but they seem to be overpopulated with hyper-reactive physically-confronting roid rage cases. You can get in their way and prevent them from shaping your march.
Keeping together, keeping masses of people from being strung out along a march route can keep police from picking off subgroups.
Directing your de-escalation efforts (this is for you, White People acting as meat shields for BIPOC) at cops instead of protesters is where you can use your privilege.
I'll note that you can download a B&W or color version of Safer In The Streets for printing (assembly instructions here; all three links are PDFs) and distribution. I'll also note that this zine is captioned Vol 1, so hopefully we'll see more in the future, maybe including info about counteracting chemical agents, first aid, communications opsec, and more.
---
Spam of the day:
Half glass water + THIS = Smaller Belly By Morning
Dude, I am already concave but even if I weren't, this would still be gross. Stop fat-shaming.