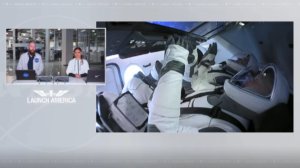 Hoo boy, I hope that Elon Musk cares more about astronauts using his rocket, capsule, and spacesuits than he cares about people building his cars. I mean, when I say his let us not fall into the trap of thinking that he personally came up with anything beyond a napkin scribble that says People go up WHOOSH and Step 3: I AM MARS KING; a whole host of very smart people made the stuff that's about to be used.
Okay:
Shing Yin Khor on Muffler Men, one of their passions in life. Looks to be the first of a series of graphic columns on the cultural weirdness of America.
Hot on the heels of the revival of Tuca & Bertie, Lisa Hanawalt let us know that she's got a solo show at Gallery Nucleus on 13 June, and this time it's personal virtual. Sign up for online previews of the work to be shown at the exhibition page and good luck grabbing some good stuff.
We knew it was gonna happen: CXC 2020 will not have any in-person component due to the risks of the novel coronavirus. They'd put out a survey earlier to get a feel for what people wanted from this iteration and while people want to talk comics, it's clear that comics are not worth the risk to life that will still be hanging over all of us in October.

Exhibitors will be invited back to the next CXC, and fees will be refunded. Somewhere in the great beyond, Tom Spurgeon is shouting into the void that you don't need him there personally to have the show because he wanted everybody to experience as many comics as possible.

Stay the fuck home, everybody. Wear a damn mask, everybody. Wash your friggin' hands, everybody.
Update: Launch scrubbed due to weather rules. Bob and Doug will not Take Off, eh.
---
Spam of the day:
Cops say brutal new tool is too powerful for most men (get yours here)
Read the fucking room you violence-worshiping bastards.