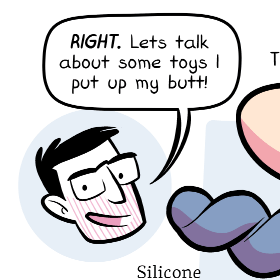 … but I need to mention again that Erika Moen and Matthew Nolan are a godsdamned delight and I don't know anybody else that could start a comic with anxiety over the looming menace of COVID-19 and immediately transition to butt toys. Read their comic and buy their books, you cowards.
In other, non-buttcentric news:
It's been a while since we talked about folks that don't do webcomics, but who do do independent creations on the internet, and it's time the reset the counter. The Doubleclicks (siblings Aubrey Turner and Laser Malena-Webber) make wonderfully nerdy music and Kickstart equally wonderful projects. When not Kickstarting, they still make nerdy projects to keep in touch with their audience and they've got a doozy on both the wonderful and nerdy scales for the Isolation Times:
We made a new music video. Together! In one place!

For our song DIMETRODON. From a thousand miles away — we went to a museum, danced in a square … all in the video game Animal Crossing.

It was a ton of fun. And we are debuting it RIGHT NOW!!!
Now, on the off chance you're not familiar with Dimetrodon, understand that the original music video for the song was pretty damn amazing, so there are some big, clawfooted shoes to fill here, but the new one does just great. But yeah, buncha folks have made cute videos in Animal Crossing, so is there more?
Oh, but of course there is:
Speaking of Animal Crossing… our incredible friend Jules just opened up a queer bookshop and cafe inside this video game (WILD) and invited us to do a concert there.

So on THURSDAY — at 3pm Pacific/6pm Eastern — we are performing live, inside Animal Crossing, and streaming it on YouTube — with our friend Molly Lewis! The whole thing is free to watch, and we'll be encouraging donations to a charity that supports trans folx in financial need.
The concert will be here, and I remind you of a crucial piece of math: anything involving Molly Lewis is automatically 38% cooler than it would be ordinarily.
Are we done yet? Not yet, Sparky:
PPS — if you play Animal Crossing and have reliable internet, you can be maybe in the studio audience for our show! reply to this email and let me know if you're interested!!
I'm not gonna share that email address, as it goes to those that have subscribed to Doubleclick emails (via purchases, Kickstart backing, or merely signing up) and it wouldn't be right for those folks to maybe get crowded out. Guess you should sign up in advance of the next cool thing that they do, huh?
Finally, I would like you to know one more thing:
You may know that Laser is a Kickstarter coach. We wanted to let you know that they made a FOURTEEN WEEK How-To-Crowdfund class and they're launching it RIGHT NOW!

Here are three pieces of information.

Laser has raised $1 million for independent artists, consulted for folks including Jonathan Coulton and the Presidents of the United States of America, and worked on book, music, game, and film projects.
Crowdfunding pledges are NOT GOING DOWN during this time — and crowdfunding is just the goshdarn best way to get your art made and connect with your audience. (half of that is opinion, but it is TRUE OPINION).
You can get 50% off (yeah, that's half) of Laser's step-by-step audience-building and crowdfunding class until May 31, because you are a doubleclicks email list person. the code is THANKYOU
Okay, that's a separate email, but it seemed like at least some of you might benefit from it; unlike the first communication, this one explicitly included permission to share the discount code, so go nuts. Laser's super smart and you can only get better at your next crowdfunding unless you're like, George or Spike¹.
---
Spam of the day:
Hey – I'm working with a company that is looking for sites that have content relating to clothing and I came across yours. Any chance you'd be open to hearing about a way you could link to a merchant and make money in the case someone clicks on the link and purchases something?
Is that a dig at webcomics creators being nothing but t-shirt sellers? You're about a dozen years late with that shit, Rob A if that is your name.
_______________
¹ All the best crowdfunders have single names.