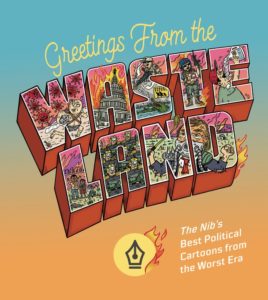 At its heart, The Nib is all about the politics. Sure, there investigative cartooning going on there, reportage from around the world, commentary on culture and society, but editorial supremo Matt Bors came up from the world of editorial cartooning, and their most memorable stuff has cut straight to the heart of politics.
Thus, six or so years (minus a restart or two here and there), they're collecting the best of their political cartoons for print, and raising the requisite funds as we speak¹. And check out the talent on tap for this collection:
Take a look at these cartoonists: Pia Guerra, Tom Tomorrow, Jen Sorensen, Ben Passmore, Gemma Correll, Joey Alison Sayers, Matt Lubchansky, Chelsea Saunders, Matt Bors, Rob Rogers, Niccolo Pizarro, Charis JB, Peter Kuper, Emily Flake, and Kendra Wells.
Hold on, we're not done: Nomi Kane, Mark Kaufman, Keith Knight, Michael Kupperman, Eli Valley, Lauren Weinstein, KC Green, Megs Wolf, John Martz, Ward Sutton, Julia Bernhard, Jon Rosenberg, Ruben Bolling, Terry Laban, and Barry Deutsch! [emphasis original]
On a day when I had more patience, I'd hunt down websites for all those folks and link them. I'll content myself with Jon Rosenberg on account of he provides my hosting. Pretty sure about 80% of the others are linked in some post or another here on the blog, so search in the box up there to the right and click whatever you find. It'll work out fine.
Anyway, bunch of great creators, and a top tier that is making a compelling amount of sense — for US$500, you get The Nib print magazine for life; the individual issues are priced at US$15 per (at least, so far) and there's been as many as four a year (being dropped by First Look last year and then the pandemic have delayed this year's offerings, but Bors is determined to get back to quarterly). Call it US$60/year for the magazine (which is actually a mechanism to support the daily cartoons because — and we can never say this too often — Bors pays people what they're worth), or just over eight years worth of print to the break-even point.
I have every confidence that the magazine will continue that long, and it actually makes even more sense for me. My subscription is actually at the US$8/month funding level, or US$96/year. Would The Nib still be around in five years? They've been around for longer than that so far, so I figure it's a good bet. Gonna have to think on that; I've been using the stimulus money to buy more comics from more creators than usual; have to decide if spreading it around is as effective as sending it to one place that in turn pays a couple dozen folks.
Anyways, they've been funding for about 24 hours, so the FFF mk 2 tells us that their end level is probably going to be in the US$45K to US$67.5K range, safely above the US$30K goal (which they are currently halfway towards). You've got another 27 days to get in on it with the rest of us.
---
Spam of the day:
Save up to $610 on Auto Insurance This Spring
My auto insurer has already sent me checks for more than US$100, on account of the lockdowns have made them assess downwards how much they're likely to pay out this year, and decided that we needed the money more than they did. They've always issued a similar dividend after year end, so I'm pretty confident this is going to continue. You were saying?
_______________
¹ We need a better equivalent to that saying for the current age. I'm not speaking, I bet you aren't either — Fleen readers have generally demonstrated an ability to read without moving their lips — so it kind of falls apart. I'm typing, you are at some future point reading, maybe we just need to make a reference to observing from the outside, at the as-yet-undetermined state of the Kickstart, like a half-alive cat?
Yeah, I'm a bit punchy today. My students, who have been generally capable this week, suddenly decided to have a big ol' bowl of stupid flakes on what's usually the easy day of this class, stumbling from step to step on what's normally the easiest exercises of the course. Should have been done, 45 minutes in and out, everybody gets an early afternoon. As I write this, we're past two and a half hours. Grrrrr.