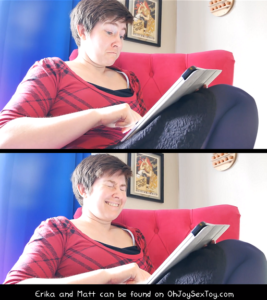 So there's a Kickstart you should know about, and a Kickstart that you hopefully did know about with a twist that you should know about. They both offer self-evident reasons why you should engage in commerce that are so compelling as to brook no contradiction. Shall we?
Erika Moen and Matthew Nolan are on a mission: to make the world better at sex. Sometimes that means sharing reviews of sex toys, so that you can find the device that makes your joybits happiest. Sometimes it means sharing horny, horny smut of all varieties so that you can get all hot and bothered. But a lot of the time — maybe most of the time — it means recognizing the fact that neither horniness nor happiest joybits are enough if you — using the broadest sense of you, the society-level you — don't know how things work Down There¹.

Sadly, ours is a society that seems determined to undervalue truthful, actionable information about sex and sexytimes because … honestly, I don't know. I can't think of a single reason that this information should be suppressed and kept hidden that isn't deeply (pardon the pun) fucked up. But [gestures around] yeah. So if Matt 'n' Erika are going to make the world better at sex — and that translates to you (this time it's the personal you specifically) being better at sex, in whatever way you prefer it — they've got a lot of sharing and educating to do.

Thus, Oh Joy, Sex Toy's line of print collections, but especially the ones that focus on the educational end of sex. Last year, it was their first focused collection that got Kickstarted, and today it's the followup. Drawn To Sex: Our Bodies And Health moves on from the mechanics of — quoting here — doin' it² and into the more science-y and biology-y side of sex.

Because of the importance they feel for their mission, the PDF version of the book has the lowest price point I've ever seen for a 200+ page file: eight bucks (US). Even the full print version is ridiculously affordable at US$20 (plus shipping). And I would be remiss if I didn't mention that they have a support tier at US$1069³ that includes the physical book, the PDF, a unique piece of art in the book, and we'll take you out for coffee if you're ever in Portland. Erika and Matt are awesome folks, I would wager that coffee is at least a thousand bucks of excellent times.

As of this writing (maybe three hours in), DTS2:OBAH is just over US$15500 in pledges, or comfortably over 200%. You are taking no risks by backing this one (also, the guest artists are definitely getting bonuses). Go get the book, then get to gettin' it on.

Hey, remember how David Malki ! had a book Kickstart delay so much that it ran into the time he was planning to launch his next book Kickstarter? And how he decided to respond to that delay by adding the contents of the second book to the first one for free? No? Funny, we at Fleen went on about it at some length. Assuming you missed out on the Kickstart that suddenly delivered twice as much book as you'd expected, you have a chance to get in on that massive (I just weighed my copy and it's more than 1100 grams) tome, with the greatest cost for international buyers zeroed out:


I've worked out a special deal with the warehouse in China that is storing copies of my latest book, FRIENDS YOU CAN RIDE ON.

They are moving to a new warehouse soon, and they want me to clear my inventory off their shelves as quickly as possible.

So, before they palletize my remaining books and ship them to the US, we have worked out a limited-time deal for economy shipping to the following countries:

UK • Ireland • Australia • New Zealand • Austria • Belgium • China / Taiwan / HK • Croatia • Cyprus • Czech Republic • Denmark • Estonia • Finland • France • Germany • Greece • Hungary • Indonesia • Latvia • Lithuania • Luxembourg • Malta • Malaysia • Netherlands • Poland • Portugal • Slovakia • Slovenia • Sweden • Thailand

Orders to these places, of just this book alone (or multiple copies of it), will ship FOR FREE through May 27 only.

$30 USD gets you the book sent to anyplace listed above, via some kind of intercontinental train or something.

(USA and Canada orders will ship from me personally, but for the same limited time, I'll honor the free shipping deal for those shipments too.)

Just for reference, the cost to ship 1100 grams of book via Priority Mail International flat rate padded envelope (or whatever would protect it en route) from the US to the named countries range from US$35.35 to US$38.60, or more than the cost of the book. Heck, even shipping it to Canada would be US$26.90 and domestically US$8.40 (or US$3.86 for media mail, which can take a while). Bottom line, wherever you are, this is a tremendous deal and you will probably never see another such like again.
---
Spam of the day:
Ion Mineral Reduce Fatigue, Eliminates Flaky Skin, Improves Hydration & Cell Regeneration
You are selling a shower head. Keep that nonsense for somebody that doesn't know what ions are. And anyway, if you want to sell a shower head these days, point out that one with a hand shower attachment is easier to install than a bidet on the toilet and you'll get a zillion takers.
_______________
¹ Or, one should note, Up There, as they are not neglecting the role of the brainmeats in sexual response, attraction, and preferences.
² Gods, I love those two.
³ Nice.