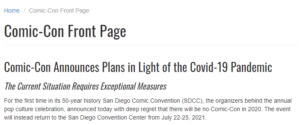 Now that it has, we can spend some time rearranging that week in July, be mad for the opportunities lost, and start to move on. And bonus? No hotel rodeo to negotiate this year.
In the meantime, let's consider some good news:
The Excellence In Graphic Literature Awards have spent the past couple of days releasing the names of winners, and they're nearly ready to announce the Book Of The Year. But so far they've shared the following:

Mosaic Award: recognizing a work that serves diverse, underserved audiences, Kiss Number 8 by Venable and Crenshaw.
Book Of The Year: Not yet announced as of publication time. I've been stalling, hopingn they'd announced before I hit Publish but nothing yet. We'll update when we know; wouldn't bet against KN8, though.

Update to add: White Bird by Palacio.

Congratulations to all the honorees; it's all terrific work.

Hey, need something to do this weekend (and yes, it is about to be the weekend)? Matt Bors has you covered. He's made two print issues of The Nib free to download for the month of April. Specifically, you can get the Family and Empire issues (the second and third of five so far), with comicky goodness from the likes of Alison Bechdel, Emily Flake, Joe Decie, Andy Warner, Keith Knight, Sarah Glidden, Eleri Harris, Kendra Wells, Nomi Kane, Matt Lubchansky, Jon Rosenberg, Gemma Correll

Paragraph break! That was getting long!

… Joey Allison Sayers, Ben Passmore, Niccolo Pizarro, Masha Gessen, Whit Taylor, Ellen T Crenshaw, Kasia Babis, Brian McFadden, and more. If you like them and would like to encourage Bors to make more (not to mention getting in on that awesome Nib magazine ink smell), drop by the store and pick up the physical thing.
Okay, see you on Monday with highlights from the :01 Books virtual con that runs tomorrow. Still time to register if you haven't! But I did just get an email saying that there's been a huge response and the conferencing solution might actually max out. In which case, wait for somebody else to leave, check out the livestream on the :01 Facebook page, or wait for the recordings to be released. It's just like an SDCC panel room that gets too full!
---
Spam of the day:
Why is your website – fleen.com not featured on Google's first page for most of your keywords?
It is. Get lost.