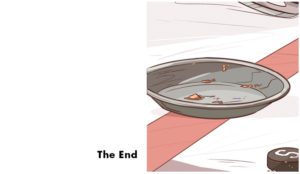 Yeah, there was Easter-related stuff, but I was really talking about the burst of Check, Please! updates after Tuesday's cliffhanger. On the third day, Bitty and Jack took a new step in their relationship and the whole gang was there for the celebratory pick-up game of hockey. On the fourth day, we saw the happily ever after ending — which in any other context would be too pat and twee and cloying — which Bits fucking earned.
There will be ups and downs in the future, but Ransom & Holster will always be best buds, Shitty¹ and Lardo will always love each other, Chowder, Nursey, and Dex will get on each others nerves (and never compel the others to stop), and Bitty's mom and dad will be thrilled with Jack as a second son². The last episode was an extended Thank You from Ngozi Ukazu to everybody that helped make Check, Please, and to everybody that read it. Everybody feel good for Bitty.
Okay, more seasonally appropriate perhaps: when I last spoke to Evan Dahm about his upcoming books a year ago at MoCCA, he was getting close to the finishing touches on his graphic novel of what happened to Christ Jesus in the time between the Crucifixion and the Resurrection. This story is part of the Apocrypha, and the name given to it is the title of the book: The Harrowing Of Hell. The plan was to have the book out for Easter.

Yeah, didn't happen. Even before the novel coranavirus, Iron Circus publisher/supremo for life C Spike Trotman had difficulties, with at least one printer accepting the job and then rejecting it because … I dunno? They didn't want to be associated with a story about Jesus casting down the gates of Hell and freeing the damned from their eternal torment? Anyway, it's on track for a release in July, and to both tide us over and to honor the liturgical season, Spike released the first 37 pages on The Grams over the weekend. I've mentioned before that Dahm has drawn Jesus in a way that is somewhat self-portraiture; reading the opening scene (the trial of Jesus), Pilate looks just a little like how Ngozi Ukazu draws Holster (I may be obsessing over the CP finale a little). It's the shape of the head, really.

Anyway, it's a cracking good read, and likely to give both believers and nonbelievers a new perspective on the central tenets of Christianity. Start reading here and work your way through some lush, deep, thoughtful pages.

Hey, confused by everything to do with the novel coronavirus, SARS-CoV-2? How predictions change from day to day, and how the unscrupulous and ignorant will use the confusion surrounding the predictions of experts to try to force us all out of our homes so that billionaires don't lose of their precious money? Not surprising, as the entire business of predicting how the pandemic will go is reliant on a mathematics that depends on numerous variables, the assumptions for which depend on other variables, the assumptions for which depend on still other variables.

Which depend on things like testing numbers and causes of death, both of which are lagging nearly everywhere.

It's enough to drive one to distraction, and complex enough that even veteran stats-wranglers and mathematic modelers are noping out of the predictions game. But just because the folks at, say, FiveThirtyEight aren't making any predictions of their own doesn't mean that they can't talk about the process and methodology of making predictions. But how to render a complex topic understandable to a general audience?

[finger snap] Weinersmith!

A Comic Strip Tour Of The Wild World Of Pandemic Modeling will make for an engaging 15-20 minute dive into the math, and why we really don't know what's going on, but how each iteration of the model likely gets us closer to explaining reality (although on a lag). One thing's for sure — reading a plateau or even decline in the number of cases as a reason to open everything up again will fucking get people killed you great orange moron, don't do it. We need hard, reliable, statistically significant numbers, and that means widespread serological testing. Until then, stay in.

Maybe re-read the whole of Check, Please while you're at it? It's a mood-raiser.
---
Spam of the day:
Stay protected from nasty bacteria in gyms
It's not a bacteria, and you shouldn't be going to the gym. Sheesh, the imagination on this kid!
_______________
¹ Literally my only complaint is we never learned Shitty's first name.
² Also, Tater will be there being almost as upbeat and innocent as Bitty. Tater's a good dude.