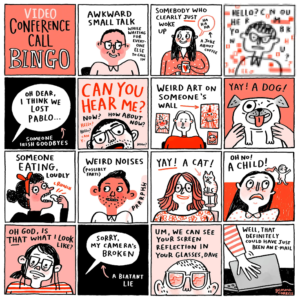 Is it BINGO if you fill all the boxes? I mean, any random day I teach I hit everything except Cat, Child, and Glasses Reflection before we're done with introductions. Gemma Correll remains our most insightful observer of everyday absurdities and I'm so happy that The Nib runs her stuff regularly.
Speaking of The Nib, editor/supremo/guy that keeps it all running when new media funding gets yanked Matt Bors has a new collection of his editorial cartoons that you can obtain via The Nib. Named for maybe his most famous cartoon, We Should Improve Society Somewhat is 184 pages of Bors at his best, and while it's available via bookstores or comic stores near you, you should consider picking it up directly from The Nib.

That's due to the fact it's pretty much sold out elsewhere¹, but also because The Nib is where you can add on a sketch/sign option, meaning that Bors will touch your copy himself, guaranteed. While you're there, take a look at the other Improve Society stuff (your book will come with a sticker!) and back issues of The Nib in print; every sale will get turned into paychecks for cartoonists because shelter-in-place pandemic or no, The Nib is founded on the principle that cartoonists get paid for their work.

The sixth annual Queer Comics Expo was due to occur 16-17 May, hosted as in years past by the Cartoon Art Museum in San Francisco. Naturally, nobody knows the degree to which travel and congregation will be allowed/advisable in five weeks time, so like other events before (and likely some still to come — looking at you, SDCC), it's gone virtual.

Applications are now being accepted for the digital artists alley, streaming content proposals, and merchant participation. If you are looking to exhibit or produce programming, applications are being taken until 11:55pm PDT on Friday, 1 May; acceptances will be on a rolling basis until available slots are filled.

You might not have thought that a virtual con would need volunteers, but QCE has an application up to compile a list of volunteers for the next physical event, so get your name in early. Finally, admission will be free, but as QCE is in part a fundraiser for CAM, if you attend any part of the remote event (and even if you don't), please consider dropping some cash CAM's way.
---
Spam of the day:
Gibson Gives – Helps Nashville Musicians and Community After Tennessee Tornado
Okay, ordinarily I wouldn't consider this spam, but the PR shop that sent it to me is abusing Constant Contact's unsubscribe process. When I click on the unsubscribe link, it claims that the email was sent only to the address that it came from, and when I enter in my email address it claims I'm not part of the mailing list and so can't be unsubscribed. Pretty crappy behavior, primeprgroup.com, and if I see any more of this bullshit from you I'm ratting you out to Constant Contact. They revoke customer access over nonsense like this.
_______________
¹ Likely due to the disruptions at the distributor level, as the book should have been shipping at just about the exact moment that everything shut down, dammit.