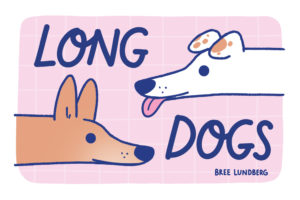 Hey, y'all. Spent a bunch of time on EMS stuff today (nothing exciting; the sort of logistics¹ that would happen any time, just a lot more than normal), so this one is going to be short. Also it looks like next week will be busy, so it might not be daily book reviews like I'd planned. I'm sure we'll all manage.
Today's isolation assistant is Los Angeles resident Dave Kellett, who is making his latest Sheldon strip collection — that is, comics pulled from the regular Sheldon archives, not the Anatomy Of … strips that were intended as themed collections — available for free download. Head to his Gumroad store for Literature: Unsuccessfully Competing Againt TV Since 1953 and use the code letsbepals to get it for zero dollars. A'course if you like it, you might want to check out some of LArDK's other digital or physical stuffs.
Today's book, Long Dogs, is a minicomic or possibly a zine from Bree Lundberg. It's about her two adopted greyhounds, Chai and Kona. Chai and Kona are awesome. I am confident in this assessment, because they are greyhounds and greyhounds are all awesome. Lundberg renders them with chunks lines and cartoonish grace, with a style that is simultaneously simple and eye-catching — unsurprising, given her experience in the greeting card industry.

You can get a copy from Lundberg's store (zines, stickers, pins), or check out her digital comics and zines and prints. When I got mine, I received an email that it was in the mail and on its way approximately 45 minutes after I hit the order button, and got it in my mailbox less than 48 hours later. I can't promise you that kind of turnaround, but it felt greyhound-speedy to me.

And if you find Long Dogs has sparked an interest in greyhound adoption, do some research and find an adoption group near you. When all of the current plague settles down, you'll be ready to get a friend to help you enjoy a normal life again.
---
Spam of the day:
Stop Cancer With this Exercise
Hi there, "Shirley Messing", who is promising to prevent or reverse cancer with a five-minute exercise, can you do something for me? Can you go get Alex Jones with his COVID-curing toothpaste, and Jim Bakker with his COVID-curing silver solution, and can the three of you fuck off into the ocean? And when the ocean spits you back on shore, bedraggled and half-drowned, fuck off back into the ocean again and repeat until there is no place to which you can fuck off further.
_______________
¹ Like supply procurement. Godsdammit, stop buying masks! We need them, unless things go very wrong for you, you don't. Also, give your local volunteer services money if you can.
I've spent a long time not disclosing too much about my specific location because I am paranoid about personally identifying information on the internet, but fuck it. You can help me and my two dozen colleagues out with direct donations or by setting us as the recipient of 0.5% of your Amazon habit. Just click here.