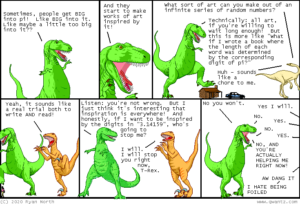 I … I think the strain got to Ryan North, Fleeps (that's like peeps or tweeps, but for peeps at Fleen … I'm workshopping it). He didn't get to go to a San Mateo County library talk last Saturday, he's just found out Lexington Comic Con is postponed and thus also his proximity to high quality and plentiful bourbon.
As we all know, Ryan is a giant of a man, as smart as he is ruggedly handsome, as modest as he is charming. He has spent decades honing himself, improving all of his stats and abilities to their max except for Resistance To Holes.
What if … what if social distancing is the hole that he can't escape? What if it's the hole on the inside? How else to explain today's Dinosaur Comics where he falls into the bottomless pit¹ of crafting the dialogue into the merciless dictates of π?
We love you, Ryan, every person that's ever met you or even just heard of you. Chompsky thinks that you are the entire world. You don't have to bend Dinosaur Comics to some bizarrely specific creative impulse!
I, of course, am immune from some foolishness and would never do anything like that. Nope. Not me.
Okay, enjoy your weekend of distancing. One week done, two to five to go!
---
Spam of the day:
It's a really easy but an effective software to create 3d animations, models, games, graphics and much more.
This is a weirdly specific product that will probably not benefit from you spamming everybody and their dog.
______________
¹ I.e.: a type of hole.