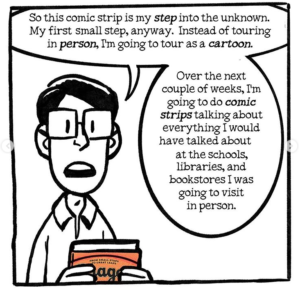 It's just coming too fast at us. Here's what we've got:
TCAF and VanCAF are, for now, not cancelled or postponed; they're a bit further out than other events and we may have a better idea in a few weeks what the finally-got-their-ass-in-gear actions being taken now have accomplished. From the combined statement:


The health and the well-being of everyone involved is our paramount concern. We are closely monitoring updates from Centres of Disease Control, Emergency Management Agencies, the Public Health Agency of Canada, local health agencies, and other official sources for the latest risk assessment. At the time of writing (March 11, 2020), public health officials in Canada have assessed that the risk of COVID-19 transmission remains low, and they have specifically not requested that events be cancelled. We encourage individuals to seek direct updates from public health officials going forward. Regular updates from the Public Health Agency of Canada are being posted on their official website.

We encourage creators to make the best choices for themselves, and weigh the pros and cons of any actions. If exhibitors at either show wish to cancel their participation, they may do so and receive a refund of table fees. We only ask that exhibitors please contact the appropriate email address (info@vancaf.com or registration@torontocomics.com) as soon as possible to allow us to open up space on our waitlist. If you are exhibiting but unsure of your travel arrangements, please plan accordingly and book flexible travel options that will allow you to cancel or postpone with minimal financial penalty.

Closing mass gatherings that are happening now and for the next few weeks is the best we can do, and to quote an epidemiologist I saw online today, now is the absolute most uncertain time about what's going to happen next; a month ago or a month from now, the effects of current actions would have been/will be much more predictable. One day at a time, folks.

You know what you don't need to venture out into the world to get? Webcomics. Gene Luen Yang has had to 86 his book tour for Dragon Hoops (proper review coming soon), so he's doing one virtually on The Grams. Here's the talk about the coach that inspired him to make the book, here's a book trailer, here's Yang learning the history of basketball, and the latest is about athletes, superheros, and writing for DC. The two most recent have reader questions, and Yang wants you not only to submit your own questions, but also tell him what cosplay to draw you in. He's a rad guy.
More webcomics! John Allison may be on pause from the Tackleverse at the moment (at least until the Charlotte Grote miniseries hits comic shops next week), but he's doing an epilogue to his last comic series — the very, very good Steeple — online for the next bit. If you didn't read Steeple, a) what's wrong with you, and 2) it's the story of Billie, a young priest who finds herself in a remote seaside town where the local Satanists are only the fourth or fifth biggest challenge to her faith. It's really good. You can get the extra comics that will run in the back of the collected trade (out in May) starting here, and a successor series, The Silvery Moon, will run here through summer. MWF updates, first four up now.
For those new to the working away from all humans deal, Beth Barnett is doing a diary comic on social distancing, which is the term you want to search for on her Twitterfeed. If you enjoy it (you will), drop her some thanks, compare notes on lifting, or (if you're brave and have time) inquire as to her feelings on the Sykes-Picot Agreement. Oh, and visit her store! Good stuff there.
---
Spam of the day:
Your Card has been temporarily suspended.
Call me suspicious, but I kiiiinda doubt that American Express would be emailing me from @wecome.xjez.com. Also, if you're going to copy the text from an actual AmEx email that says Your account information is included above to help you recognize this as a customer care e-mail from American Express, you maybe might want to include something that looks like account information? Even just a name and a fake first-and-last digits card number? Oh, and you might want to get rid of the boilerplate text that says We kindly ask you not to reply to this e-mail but instead contact us via Customer Care. You really suck at this.