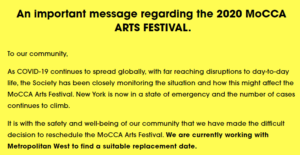 We're going to be seeing a lot more of these:
It is with the safety and well-being of our community that we have made the difficult decision to reschedule the MoCCA Arts Festival. We are currently working with Metropolitan West to find a suitable replacement date.

Now here's the important part, because it looks like we aren't going to get coherent guidance from the White House:

While New York is not officially calling for events of large gatherings to be canceled, many have been and we do not know what the next few weeks will entail. We recognize the amount of work and finances our exhibitors put into their tables and are trying to minimize the burden on them.

The curve-flattening is going to be on thousands of individual entities making decisions like this one. It's going to get more widespread, and quickly, before it starts to ease.

In the meantime, we have made the decision to move forward and continue to judge the Awards of Excellence. In addition to the cash prize and Wacom tablets for Gold and Silver medalists, the Society will feature the award winners in an exhibition at the onsite Gallery we build at MoCCA Fest.

And there's going to be a lot more of this at-a-distance events. Good luck to everybody under consideration for the Awards of Excellence, hope that the cash and tablets help you continue to create and sustain your career as we all figure out what the next howevermany months are going to look like. For example, a zine that was to debut at ECCC this weekend is now becoming available online, with print to be available in the near future. Gentlesentients, I give you Deep Space Zine.

In the meantime, pretend you're T-Rex and only have stubby, vestigal pokin' sticks:
---
Spam of the day:
We can put your website on 1st page of Google to drive relevant traffic to your site.
Searching "fleen" puts us at the second entry on page one (behind a bullshit entry at Urban Dictionary) and searching for "webcomics blog" has three separate results that point to us. So there.