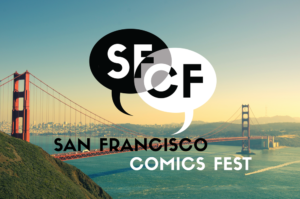 What? No, not EmCity, although we will be talking about that presently.
Today I've got my eye on the SF Comics Fest, via the good folks at the Cartoon Art Museum. For those of you that haven't seen it in past years, SF Comics Fest is an association of comics-related events (like Will Eisner Week) taking place in and around the Bay Area, in a sort of mutual non-aggression pact. This year's events will run from 29 February¹ through 8 March and will include:
29 Feb: San Francisco Youth Justice Comic Con A free event for youth blending activism with comics, anime and pop culture. The event will feature zine-making, a drawing jam, a cosplay parade, exhibitor booths, and workshops facilitated by local artists and activists.
1-7 Mar: Will Eisner Week Read a graphic novel, encourage others to do so. Yeah, I know, for most of us this is better known as "every week", but now's your chance to get evangelical about it.
7 Feb: Eisner Edition Saturday Cartooning for Kids There's monthly Saturday afternoon cartooning workshops (underwritten by the NCS Foundation) that run from 1:00pm to 2:30pm at the Cartoon Art Museum, and March's will focus on the legacy of Eisner. You can get more information on the full Spring 2020 series here.
8 Mar: 35th Anniversary Spirit of Mini Comics Challenge It's the 35th anniversary of CAM, and they're marking the occasion by seeking to make 35 minicomics in one day. Demonstrations, creative coaching and materials provided at the event, which is free and open to the public.
8 Mar: 25th Anniversary of MUTTS Patrick McDonnell will be talking about his work and signing afterwards; in keeping with the theme of MUTTS, representatives of Muttville senior dog rescue will be there to talk about adopting older dogs. Muttville outreach from 5:30pm to 6:30pm, and McDonnell from 6:30pm to 8:00pm. CAM members free with RSVP, others US$10 and up, with book purchase and membership options, head over to Guestlist for all means of attendance.
There's plenty of other events happening around the Bay Area, which you can catch up with here; if you want to host your own event, you can sign up here, which means the list of SFCF events will only grow from here on out. Anybody on the left coast in two-three weeks should keep an eye out for what's going on while you're there.
---
Spam of the day:
Request Pending… Cancel Your Subscription…
Hmmm, every "button" in your email leads to the same place, and you don't actually tell me what I'm allegedly unsubscribing from that requires my information to be sent to Brazil. Next time, just tell me it's LinkedIn. I'd do anything to get those bastards to leave me alone.
_______________
¹ Also the 13th birthday of my evil twin, Howard Tayler. At last, he is a man!