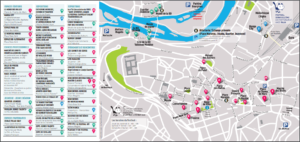 Editor's note: Fleen Senior French Correspondent Pierre Lebeaupin attended the Festival International de la Bande Dessinée in the midsized city of Angoulême in the southwest of France. The third largest comics event in the world (eclipsed only by Lucca Comics & Games in Tuscany, and the twice-yearly Comiket in Tokyo), Angoulême is the center of the Franco-Belgian comics style, with a healthy representation of work from around the world. He's here to tell you all about it.
_______________
I had never been to Angoulême before, whether for the FIBD or any other purpose. The town of Angoulême has a few claims to fame, notably that it was the domain for a junior branch of the French royal family, up until the senior branch became extinct and its lord ended up becoming king under the name François Premier (the first), thus starting the Valois-Angoulême subdynasty. But regardless of its historical role, I had never needed to go there, until this week-end for the 47th edition of its world-renowned comics festival.
There are a few reasons why I decided to (finally) start covering the festival this year, but the main one is clearly the Grand Prix having been awarded to Rumiko Takahashi in 2019 as a definite proof of the FIBD sincerely correcting its course (unfortunately, neither Takahashi-san nor any showcase of her works could be seen at the festival¹ besides her poster, but as predicted the Grand Prix resulted in new releases of her classic works). Even then, the festival was the occasion for protest and other such activities, whether they were in relation to the impoverishment of creators², like creators taking to the streets or taking advantage of the awards ceremony to raise their concerns, or in relation to more general opposition, such as when president Emmanuel Macron posed along a t-shirt denouncing police violence during his visit, or the placards in town denouncing the same, using comics characters.
However, I do not feel comfortable reporting on such events since I did not get to witness them first hand. I much prefer, inspired by fellow Angoulême first-timers Spike Trotman³ and Deb Aoki to give you my impressions and advice for attending the FIBD, coming from someone more used to regular Euro comics festivals. Indeed, Angoulême from its sheer scale has to or can afford to act differently from the former, and may not be representative of them.
It feels like Disneyland: the lines The legends did not mislead me: you must pad your schedule to account for the lines everywhere. Waiting for a signing is done in a line, of course, but as is waiting to enter a tent, waiting to enter an expo, sometimes for eating, etc. Fortunately, none of those were of the "one-off hard limit" variety: all of the spaces I waited in line for, I was able to enter, the worst being the Claveloux expo, set up in an old townhouse where I was told only about 25 people could be allowed in the ground floor at any one time, and only about 20 allowed in the first elevation. Yup, once you were done with the ground floor you had to again get in line for the first elevation …
It feels like Disneyland: the marketing This is the main event of the year for comics publishers, and it shows, with the booths in the mainstream publishers tent seemingly trying to outdo each other. For instance, just like you can spot children coming out of Disneyland, everywhere in town you could see children holding balloons, except here the balloons were shaped like Titeuf's hairdo.

As for Editions Dupuis, they went as far as to feature performers wearing oversized costumes of some of their characters in their booth, Disneyland-style. At least the marketing is focused on comics, and possibly comics-related works (for instance, there were a few advance showings of the latest Ducobu movie).

It feels like Disneyland: the scope Not only do the festival activities take over the town center with five tents, plus some buildings such as the Espace Franquin, resulting in an area that requires about 5 minutes to walk across, but an additional tent and a library were set up about a 15 minutes walk away from that, next to the train station, to which you have to add a cluster around the Musée de la Bande Dessinée, about a 20 minutes walk away from either of the other centers.

And the center is on an elevation, so a bike might not be that helpful. Take good shoes, and one pair of socks for each day you'll be there. Finally, they had a townwide PA system to remind of upcoming events and announce cancellations and the like.

It feels like Disneyland: the price Okay, it still does not compare to Disneyland, but at 19€ for a regular day, 25€ for Sunday, or 45€ for all 4 days, this is 5 times as expensive as, say, Lyon BD.
Plan in advance, or else The lodging situation is absolutely crazy, with every hotel room in the vicinity being booked months in advance; this is owed not just to the festival scale, but also to the fact Angoulême is not a big city like Lyon, and is not a beach resort like Saint Malo which finds itself with plenty of vacancies when the festival occurs, outside peak touristic season. I was able to get away with booking a B&B about 25km away a few days before and get there by train from Angoulême, but first I've been told I lucked out on being able to book so late, second this requires some faith in the reliability of the train service4, and lastly ties you to the train schedule even when everything goes well, which is an issue because:
Expect long days Regular festival activities only end at 8:00pm; this is in contrast with other such festivals, which generally close at 6:00pm. As a result, I had to bail out of an interesting exposé on how a new wave of superhero-style comics are too using crowdfunding and other such techniques to fund themselves outside Diamond distribution, since the last train for my B&B was departing at about 7:00pm. Moreover, I can't help but think of the ordeal this must be for creators, since the festival lasts 4 days, with the other festivals lasting at most 3 days.
The footbridge does not give access to platform 3 This one is rather specific. There is a new footbridge over the train tracks, which is very practical to get to the side of the train tracks opposite the station, where the library and manga city cluster was, and to get directly to your platform, wherever you come from. However, you cannot go directly to platform 3 from it: it turns out you first have to get off the footbridge as if you wanted to get to the station building, walk the entire length of the building alongside it, and finally you will get to platform 3. No, I did not miss my train, but I had seriously started to worry at some point.
I also brought back a few more pictures:
_______________
We at Fleen thank FSFCPL for his efforts, and look forward to his next dispatch from the world of BD.
---
Spam of the day:
"gary.tyrrell" WelcomeTo "ProvideAuto"
Those are the most terrifying scarequotes I've ever seen.
_______________
¹ Here is a translation of the relevant part:
On May 30th the Fauve of the Grand Prix was given to Rumiko Takahashi at the French embassy in Tokyo. Upon deliberation and exchanges over the last months, and in coordination with her publisher, she eventually declined the traditional proposals from the Festival, such as a retrospective exhibition and a public appearance, which would have entailed a workload and availability incompatible with her ongoing workload and commitments. Furthermore, she deems her work to be best discovered through her books, rather than her original plates. The Festival is naturally understanding and respectful of her decision. Sincerely moved by the honor, she wished to create a poster symbolically and concretely representing the richness of her world-appreciated body of work. The Festival will honor the creator through a program of meetups and tributes.

"I once again thank the creators who voted for me and I was particularly moved by the professional recognition I was bestowed. It is particularly moving to realize how European creators have grown in contact with my works and how much they love them. I have particularly enjoyed and put my heart into the illustration for the Festival poster. It showcases the manga I admired with a lot of respect in my childhood. I hope you will like it."
— Rumiko Takahashi, Tokyo, 2019/09/20
² Who had reasons to be upset, for instance a newly-released report on their situation contained a few bombshells on their pensions situation.
³ All of her impressions from her time there are worthwhile, but don't miss her considerations on French food, which are relevant since the duck-based products she procured are typical of southwestern France where Angoulême is located.
4 I again lucked out on train issues, but my fellow first-timers were not so lucky; and before you think "strikes", those issues can occasionally happen outside of any strike.