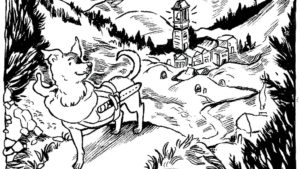 That post title sounds like a particularly unfortunate Doctor Who porn parody. Sorry. Let me make it up to you with a pair of brief items.
I'm sure you've seen it, but Gunnerkrigg Court got optioned as a series. Reminder — we've been here before and it's a long, long way from option to something we can watch. That being said, there's a mountain of story that Tom Siddell has graced us with since my goodness, April of 2005 — the strip predates this page — and given the smart animated series that have been made since then (looking at you, Aang and Korra), it's one that I think could find an audience. Fingers crossed that it progresses in exactly the way that Siddell wants.
Haley Boros is an illustrator, designer, and comics artist from Vancouver, and she draws dogs really, really well. I mean, super good; she drew my good boy Flynn before he died, but it's not her best dog drawing. Those are reserved for her good boy, Rusty, who among other things was the star of a fantasy epic using the prompt words for Inktober 2019.

Now she's Kickstarting a print version of his good boy adventures as a MAKE 100 project. 75 folks can get the print book (CA$20, approx US$16), 25 more can get the book plus a marker portrait of their own good doggo or other, lesser pet¹ (CA$50, approx US$38). And 31 people can get one of the original illustrations from Rusty's Inktober 2019 adventure, on a first come, first dibs basis (CA$75, approx US$57). No FFF Mk2 on MAKE 100 projects, the potential backer counts are too small to make predictions, but it's just under 50% funded with another 27 days to go. Boros is great, Rusty's great, and the combo of his inspiration for her art is super-great. Check 'er out.
---
Spam of the day:
Attention: Accounts Payable Or Domain Owner – Fleen: The Awkward Christmas Dinner Of Our Obligation To Existence > The Thing About Holidays And IT Failure to complete your fleen.com search engine registration by the expiration date may result in cancellation of this proposal making it difficult for your customers to locate you on the web.
All I know about Accounts Payable is that it's a bunch of no-account losers, and all the real accounting gets done in Accounts Receivable. RIP, Herbert Kornfeld.
_______________
¹ I know people that keep various fish, cats, lizards, hamsters, gerbils, chinchillas, turtles, tortoises, pigs, snakes, birds, chickens, geckos, and/or axolotls as pets. They are all loved and wonderful, but deep down we all know dogs are the best and make the best portraits. Don't believe me? Look up the warrior dogs that Ron Dan Chan illustrated on Twitter. I think the greyhound is the best, but the Pomeranian phalanx always makes me smile