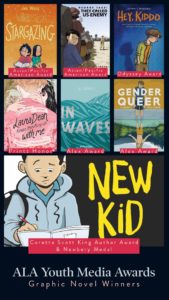 Namely, the news relating to the Youth Media Awards given out at the ALA Midwinter conference, home of prestigious names like Caldecott, Newbery, and Printz. The librarians got their announcements on this morning, and the comics are represented up and down the list.
The big news, of course, is that the John Newbery Medal for the most distinguished contribution to American literature for children was given for the first time to a graphic work. New Kid by Jerry Craft takes its place among the classics of childrens literature. While books like El Deafo and This One Summer have been named as Newbery Honor books, those are the almost-won titles; New Kid will have its own court of Honor books to accompany it, but it is the actual, sole winner. Oh, and it also took the Coretta Scott King Author Award as well, just in case you were wondering if there were a better contribution by an African-American writer in the past year.
We're just getting started.
A full rundown is available at the School Library Journal's website, and descriptions of the awards, their histories, and previous winners at I Love Libraries. Fleen congratulates all the winners, the honor books, and the nominees. You're all doing amazing work.
---
Spam of the day:
Receiving and placing orders for IT development
Thanks, got all I need.
_______________
¹ Also a National Book Award finalist, a slightly big deal.